Paytrail offers Finnish online payments and Visa, MasterCard and Amex credit card payments plus MobilePay payments. Paytrail is also responsible for the online payments of the Suomi.fi service. *)


In this article we will tell you how to implement Paytrail-payments to Lyyti.
The process in short:
1. Order Paytrail-payments
2. Once Paytrail provides you a merchant ID and a password, sign in to Paytrail's Merchant Panel. You will get a Merchant Secret.
3. Fill in both Merchant ID and Merchant Secret to Lyyti: Organisation Settings > New Paytrail

Here's the Paytrail implementation process in more detail:
Risk assessment survey for card payments
Order payments
First you need to order payments so that you can start creating chargeable events.
If your organisation already uses payments, but you wish to add Paytrail, order Paytrail-payments also using the payment order form.

Lyyti
1. Contact Customer service (help(a)lyyti.com) to get the payment order form.
2. Select Paytrail-payments on the form.
You will receive an email from Paytrail with detailed instructions how their onboarding process goes.



Paytrail
3. Follow Paytrail instructions to finalise the Paytrail onboarding
If you order card payments, Paytrail will ask you some follow-up questions. You can read more about this in the Risk assessment survey for card payments -section found in this article
4. Paytrail will provide you a Merchant ID and password. You need these when logging in to Paytral's Merchant Panel.
5. Person who has authority to sign documents will identify themselves to Paytrail.
6. After identification Paytrail will provide Merchant Secret. Copy this, you need to add it to Lyyti.


Lyyti
7. Add Merchant ID and Merchant Secret (80 marks) to Lyyti: Organisation settings > New Paytrail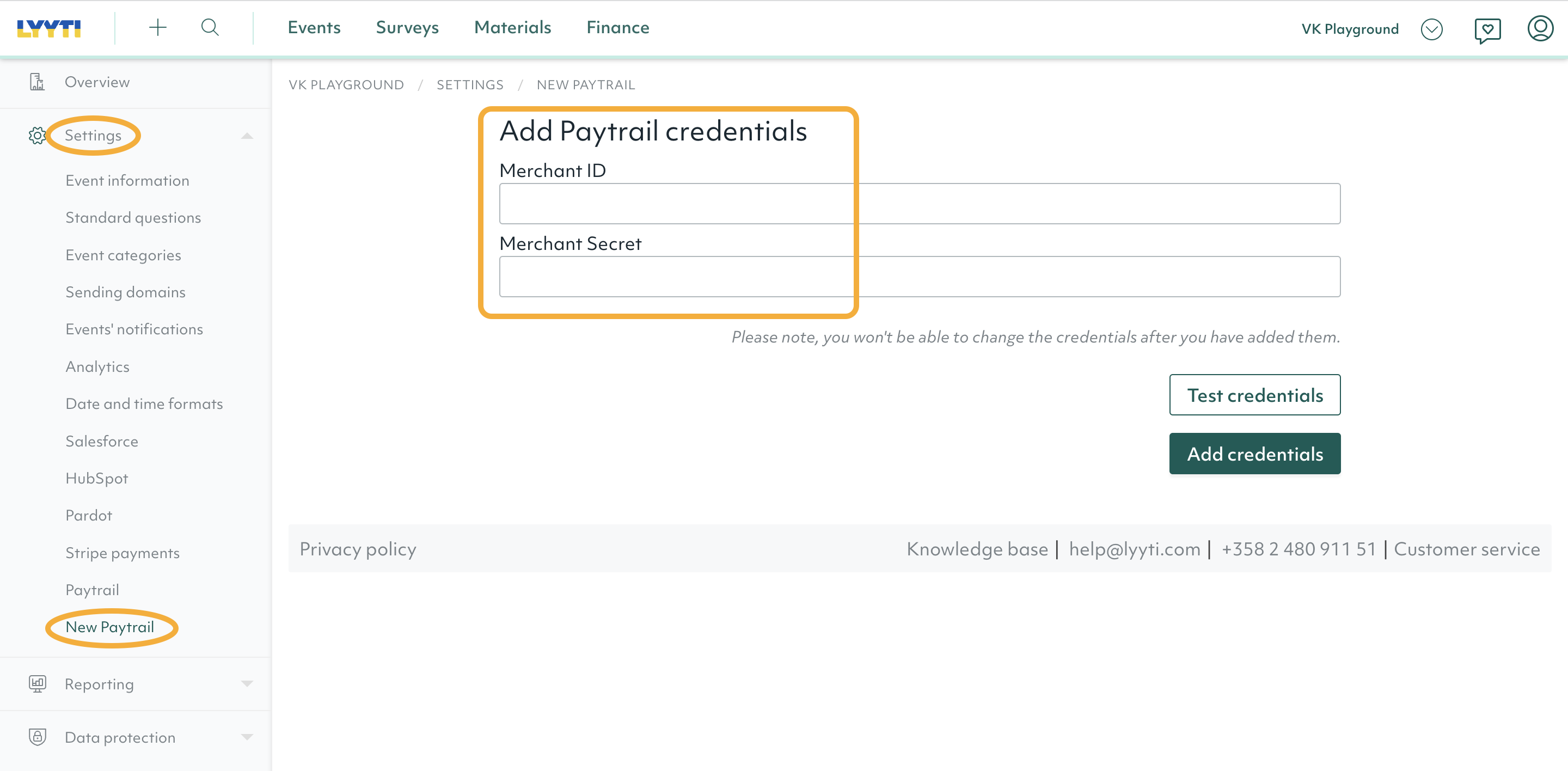 8. When you've filled in your Paytrail credentials, you can choose what payment methods your organisation's Lyyti users can use in their chargeable events. From this selection you can select event specifically what payment methods you will use. You can read more about this from the help article: Payment methods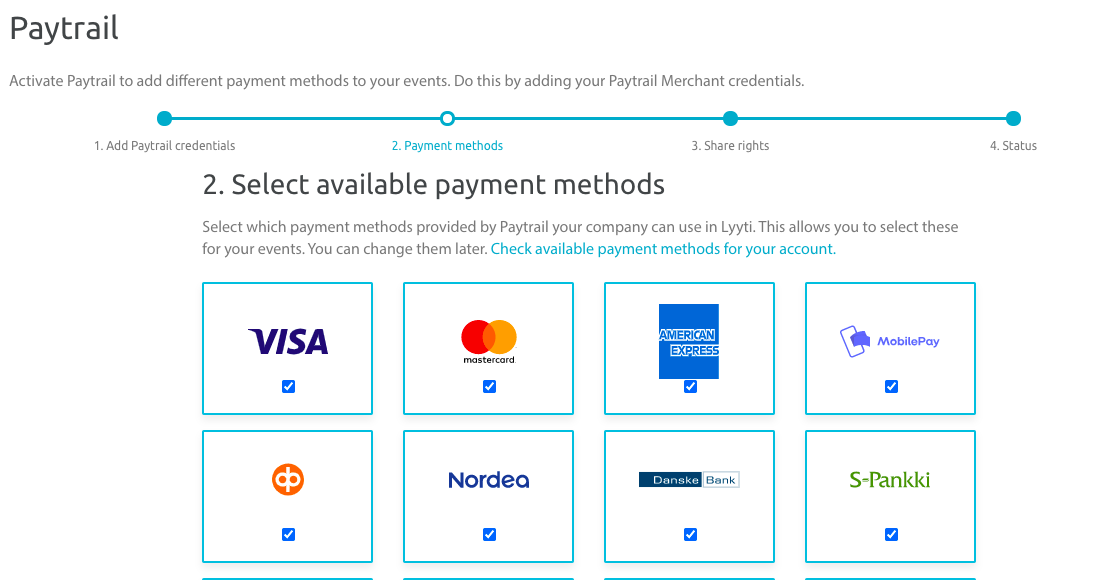 9. If you have a company structure, you can decide to which sub company can use the same Paytrail account.
Sharing rights to Paytrail allows you to share rights only from top company to sub companies. One organisation can only use one Paytrail account in Lyyti.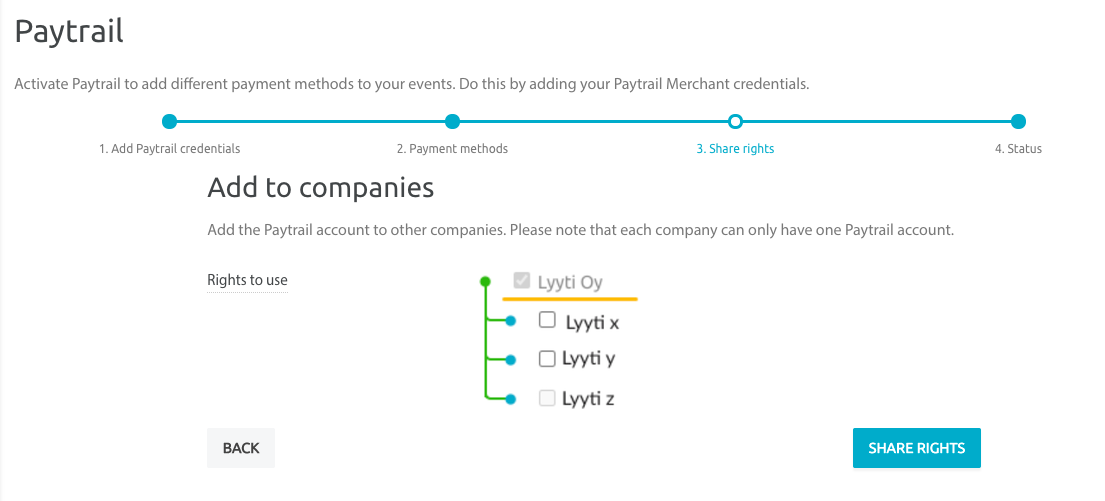 10. In Status-section you will finish implementing Paytrail payments to Lyyti. Click Use Paytrail in all events but remember to check payment methods for active events and change payment methods to Paytrail payment methods. If you have in use a transaction fee for Visa and MasterCard payments, the transaction fee can no longer be used for these credit card payments.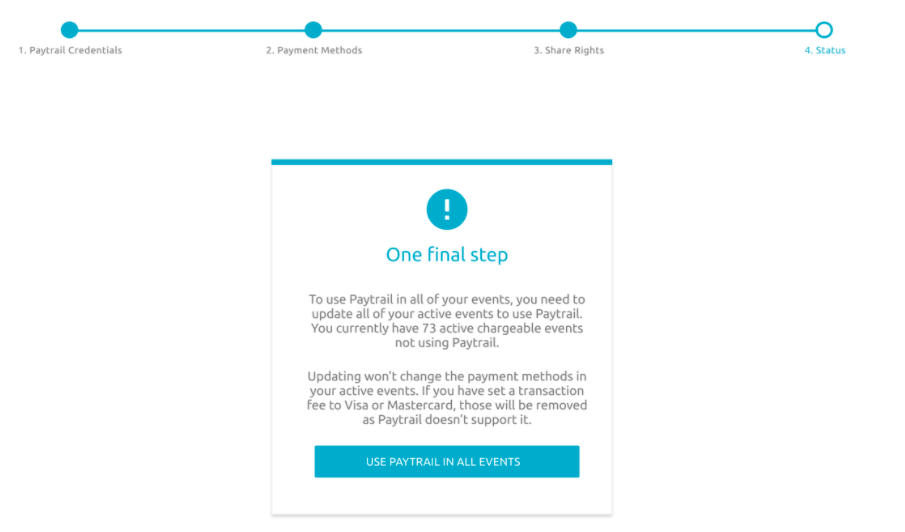 When you've implemented Paytrail-payments, the status-page will show payment methods that are in use. You can edit payment methods from this page too.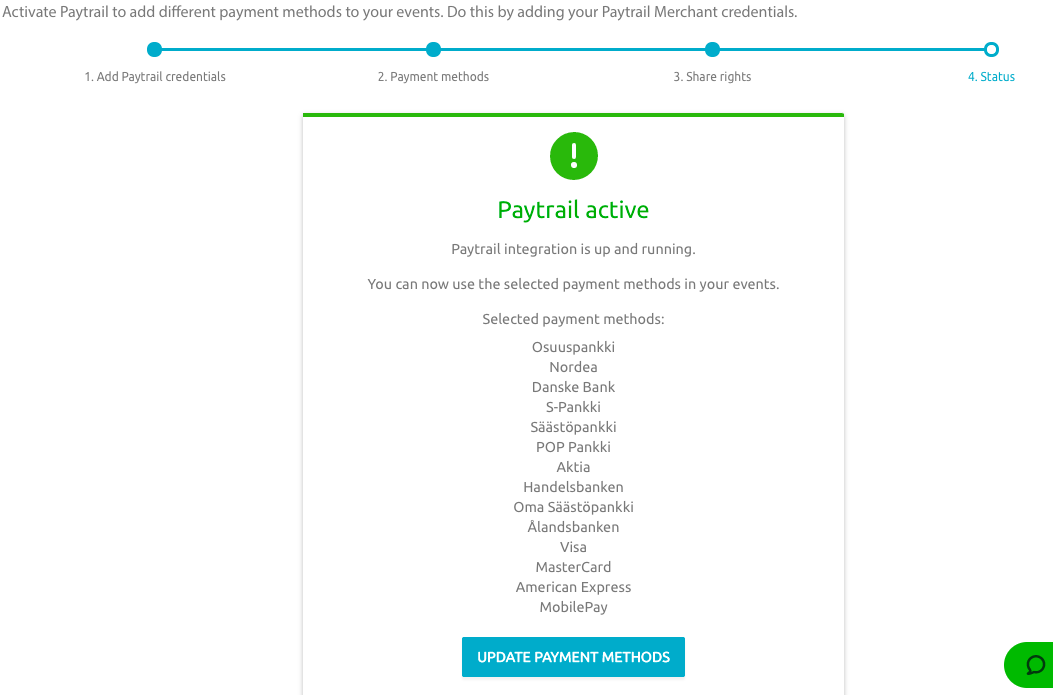 Risk assessment survey for card payments

If you wish to add card payments as payment method, Paytrail is obliged to ask you about the volume of card payments and pre-sale period. Usually Paytrail inquires the following topics:
What is your estimated annual revenue through events organised with Lyyti?
Would you estimate how much of the orders are payed by card?
On average, how many days does it take between the order and delivery of the product / service
What proportion (%) of the payments would come from abroad (outside Finland)


Orders in this case mean the products you're selling in your Lyyti event (i.e. registration fees + other products). Delivery of the product / service means the time when the event takes place.

Contact information:
Lyyti
Customer support: help(a)lyyti.com, phone: +358 2 480 911 51
Paytrail
Customer support: support(a)paytrail.com, phone: +358 20 718 1820
*) Paytrail Plc (2122839-7) is a collecting payment service provider and an authorized payment institution that works in cooperation with Finnish banks and credit institutions. Paytrail Plc is shown as the payment recipient on your bank or credit card statement. Paytrail Plc will transfer the payment to the merchant. For reclamations, please contact the the merchant directly.
Paytrail Plc, Business ID 2122839-7
Innova 2
Lutakonaukio 7
40100 Jyväskylä
Phone: +358 207 181 830