In Payments > Payment methods page you can select payment methods to be used in the event in question. Selected methods are marked with a turquoise lining.
1. Select payment methods
Online payment methods:
Payment methods provided by Paytrail: (Finnish) online banks, Visa, MasterCard, American Express, MobilePay
Credit cards provided by Stripe: Credit cards.
Invoice methods: PDF invoice, paper invoice and / or e-invoice (only in Finland).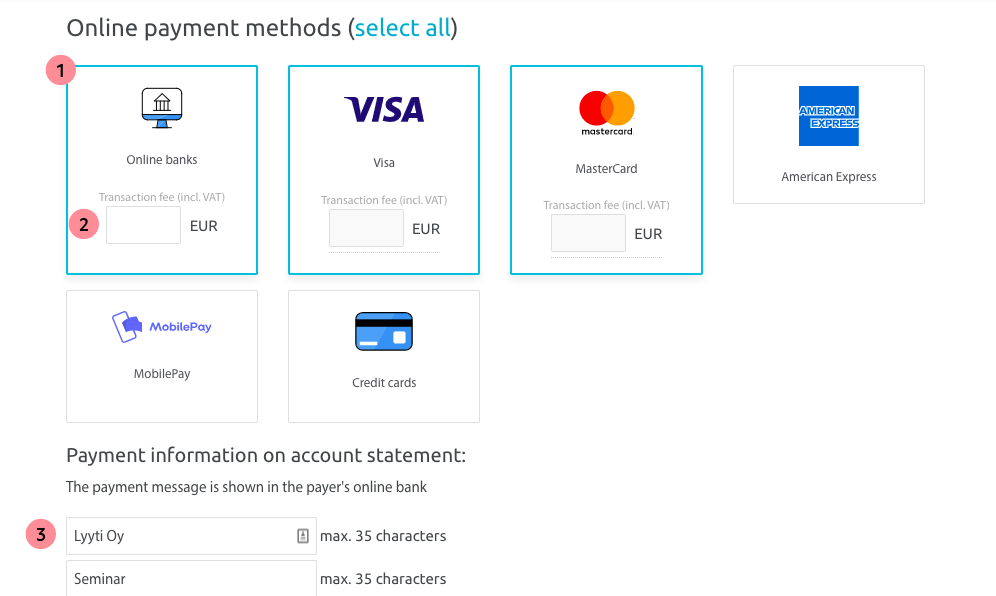 2. Transaction fee is a service fee paid by the participant, and it is shown on the invoice/receipt. Please note that you cannot add transaction fee to Visa / MasterCard payments provided by Paytrail.
3. Payment information on account statement: The payment message is shown in the payer's online bank or credit card payment details. A good payment message could be, for example:
Name of organising company
Name of event
4. Invoices are generated and sent: If you select any invoice method, you can let Lyyti create and sent the invoice automatically at registration or collect the data into Lyyti and create the invoices later on with Lyyti.
Information to be printed on invoices can be edited in Manage payments > Invoice data.