You can generate reports in Lyyti's Finance as follows:
Use these reports for your company's accounting if necessary - all the information can be downloaded into Excel sheets.
Invoiced sales
Invoiced sales shows invoices created within a certain time period, ie. sales done via invoices in that time period. Your company's financial administration department marks each invoice as sales for the month when the invoice was created.
To create a report, select a time period and event for the report, if necessary. You will get a list of all invoiced sales per product, matching the search criteria (time period/event).
Credit notes created during the selected time period affect the report by decreasing the amount of sales (euros and items).

Invoiced sales per event
Invoiced sales per event shows the total invoiced sales of all the company's events and their VAT rates. Your company's financial department can use this report to mark sales into correct bank accounts or differentiate between several products or cost pools, for example.
In addition to the basic information (price and VAT), the following information (added in the event's Manage payments page) is listed:
Project number
Internal order
Account
VAT rate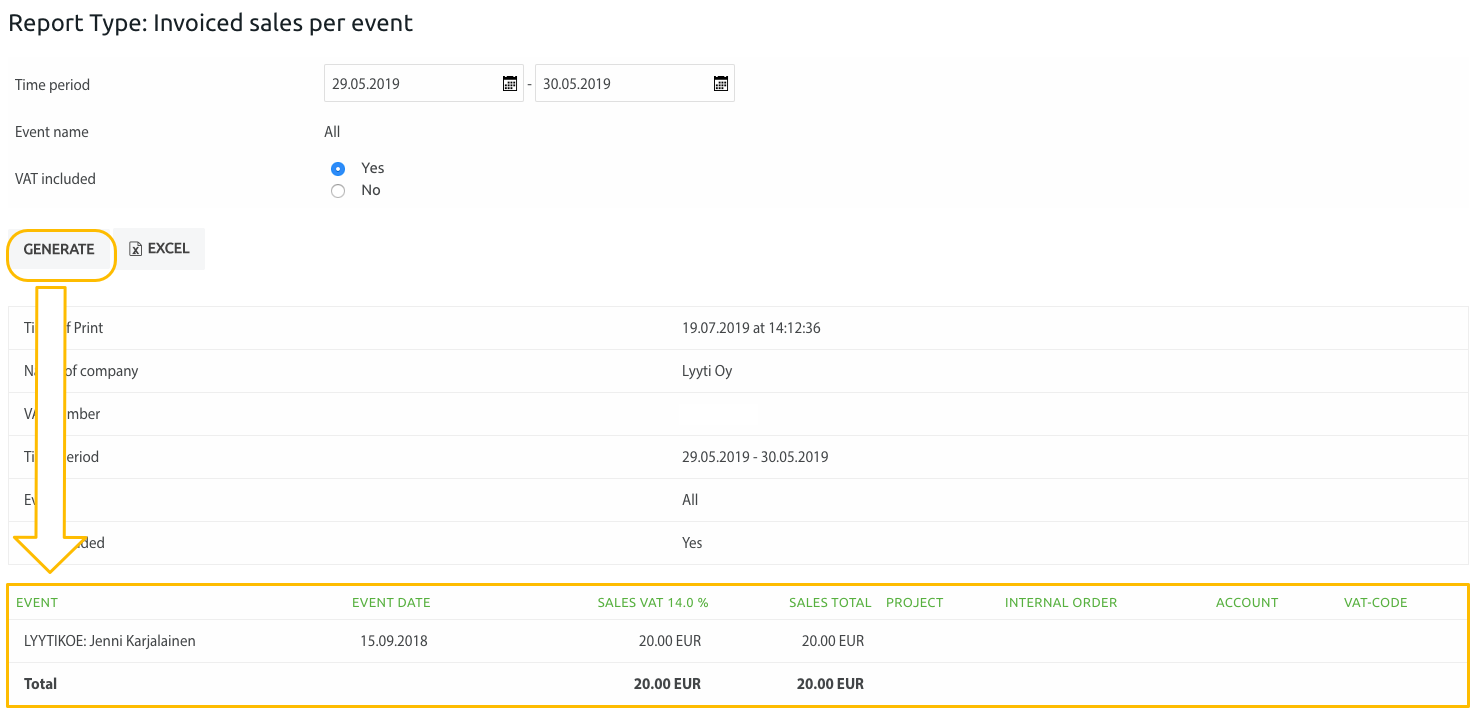 Payments
In Payments you can keep track of paid invoices per bank account over a certain time period. This report is used for balancing, when comparing paid invoiced to payments visible in Lyyti. To make balancing at the end of each month as easy as possible, we recommend opening a separate bank account for Lyyti invoices.
Select which payments (to invoices) are shown.
a time period - when the payment has arrived
event
account numbers - bank accounts where the payments have been made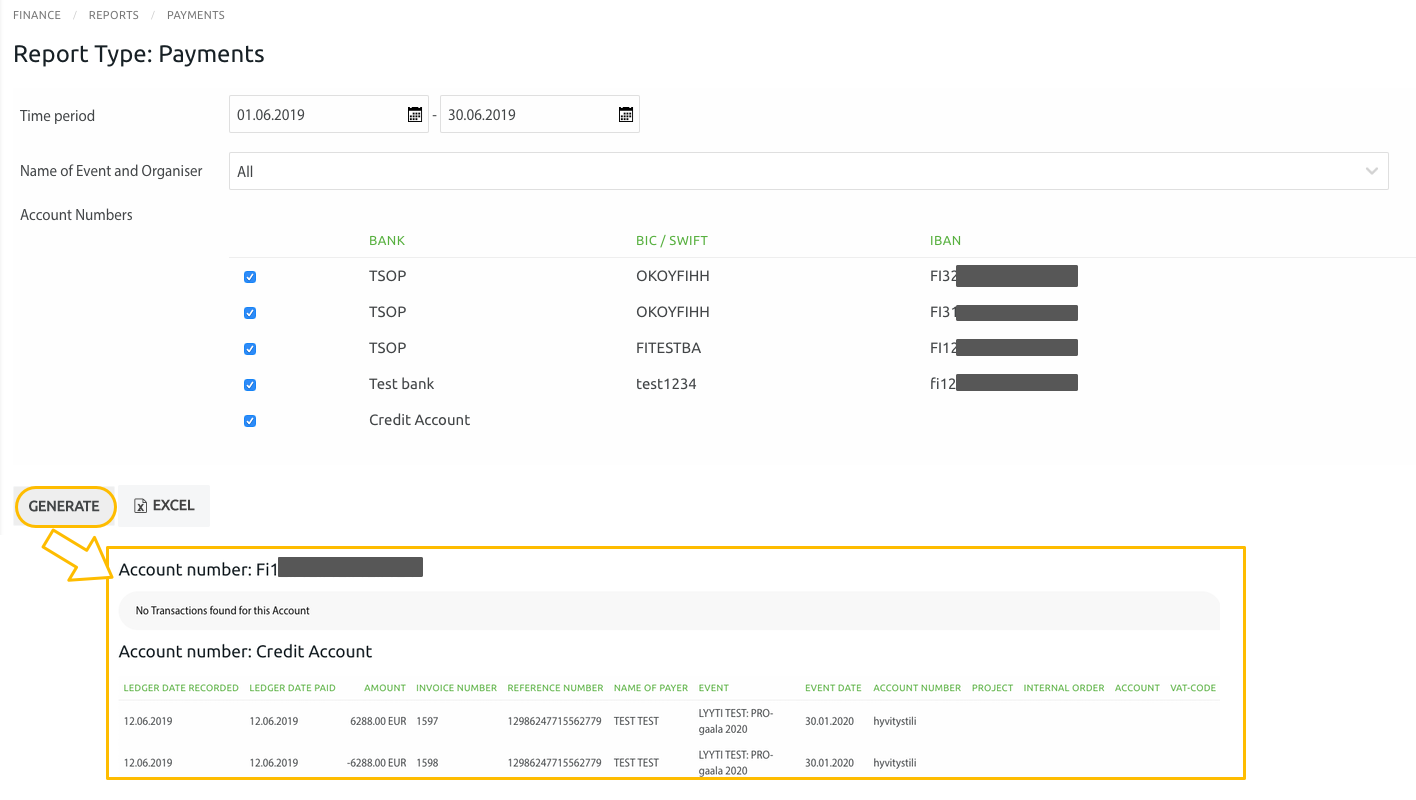 Please note that in order to see payments in Lyyti, you need to add transactions to invoices by hand or set up an automatic ledger service (only available in Finland).
Open invoices
Open invoices is a tool for your company's financial department to keep track of paid and unpaid invoices. This view shows the amount of receivables there is from all invoiced sales. In other words, Open invoices is Invoiced sales (the entire time period) deducted by Payments (up until the current moment in time).
Here you can find all open ie. unpaid invoices regardless of when the invoice was created. In addition, you can see all invoices that are/were open during the selected time period. You can also see invoices with excess payment.
Select a date and, if necessary, limit the search by events.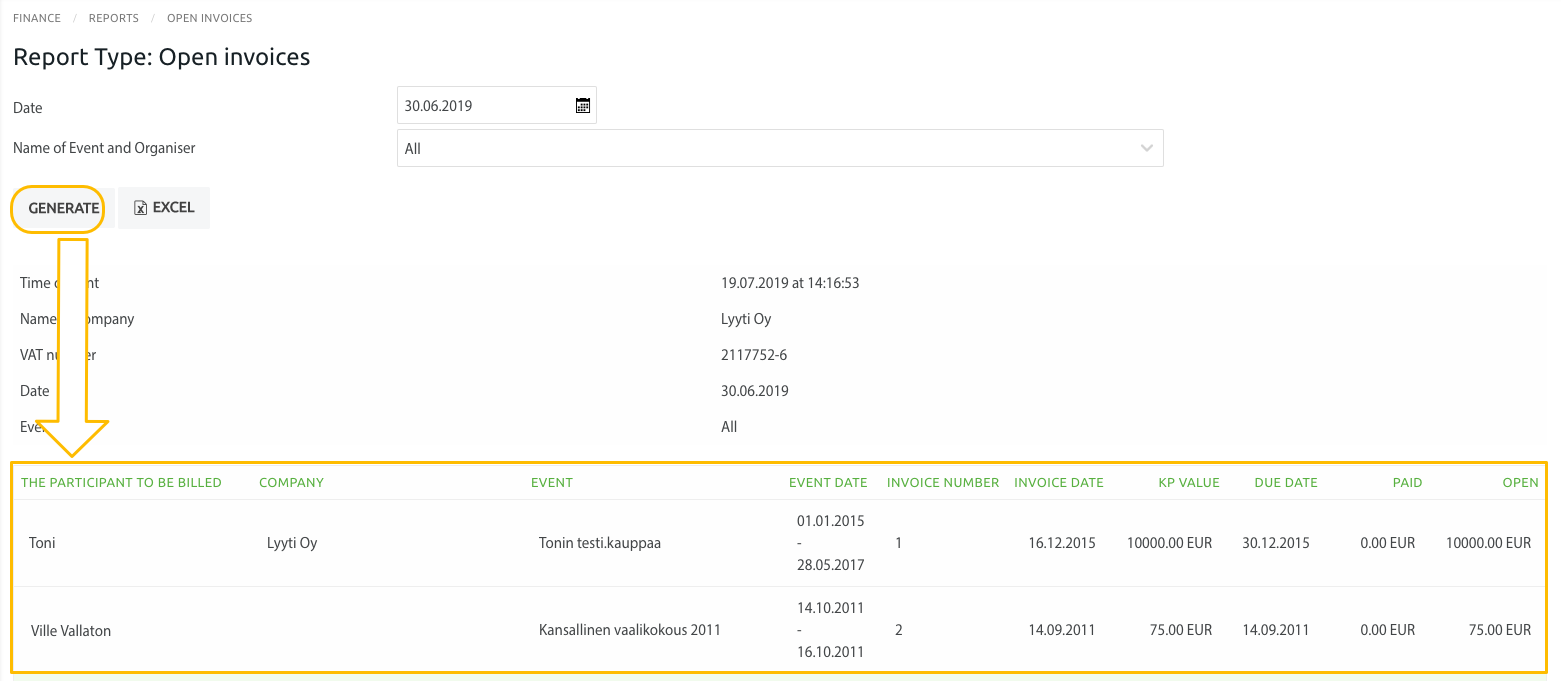 Payout reports
Payout reports show payouts made regarding credit card and Finnish online bank payments. Please click here for more information.
Sales per participant
Sales per participant shows how much has been sold per participant in Lyyti. You can use this, eg. to keep track of the value of your participants. Please click here for more information.