If you want to create a completely new invoice for your participant or you haven't created an invoice for them yet, you can do so by editing the participant information through the Participants page. 
If the participant already has an invoice that you wish to create a copy of, you can do that in accounts receivable. (instructions)  
At the bottom of the editing page, select Create invoice for participant: Yes. Click on Save, and you will see the creation of the invoice. 


You will be shown all the payment methods, the products and prices as well as the invoicing information: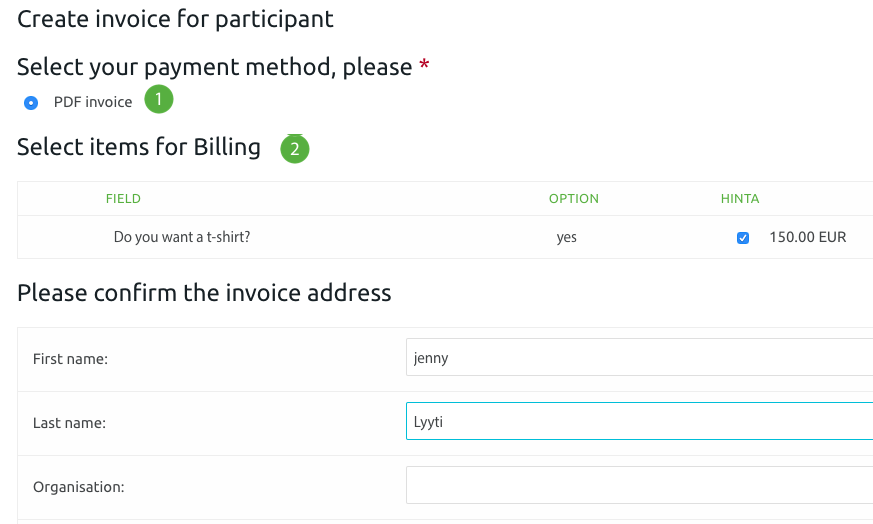 Choose the method of delivering the invoice, or the payment method:




As in this example, Pdf-invoice by email. Select this if you don't want to send the invoice to the customer, only to create it in Lyyti. Note: to do this, in step 5 select to NOT send the invoice to the participant. 

Paper invoice: The invoice will be sent by post to the participant (Only available in Finland)

E-invoice: The invoice is sent to the participant's company's e-invoicing system. (Only available in Finland)


Select which products you wish to add to the invoice. You can tick multiple choice-answers or give amounts to a Quantity-question. Lyyti will calculate the sum of the products.  


Check/add invoicing address
Select due date for the invoice.
Select if you wish to send an email with the invoice to the participant.  

Note! If you want the invoice to only be created in the Lyyti accounts receivable, select PDF-invoice and that the invoice won't be sent to the participant.  

Finally click Preview, to see the invoice details. You can come back to edit the information if needed. 
Next, Create invoice. Lyyti will create the invoice and send it as a paper- or e-invoice and/or send it to the participant as a PDF in an email. 

Finally, you will end up back in the participant editing mode.
Creating a new invoice in a group registration. 
When you've created your event as a group registration and you create the invoice through the participants page, it's possible to create the invoice to either the contact person or the participant. The invoice is created as per the instructions above, but if the invoice is created through editing the contact person, all chargeable products are directed to the contact person, not the participants. In the same way the invoices you create through editing the participants are only for that particular participant. 
When you wish to create a new invoice for the group where you add new products to specific participants, edit the group's information through their personal registration link, and register as them. Note that if the confirmation message sending is set to be on, the group and/or contact person will receive a confirmation and/or invoice from Lyyti.