To edit a question, go to the Registration page and click on the pen icon to edit.

You can now edit texts, add capacities, transform answer options into chargeable products, or hide and delete answer options. You can also define, to whom the question is shown. Remember to save the changes!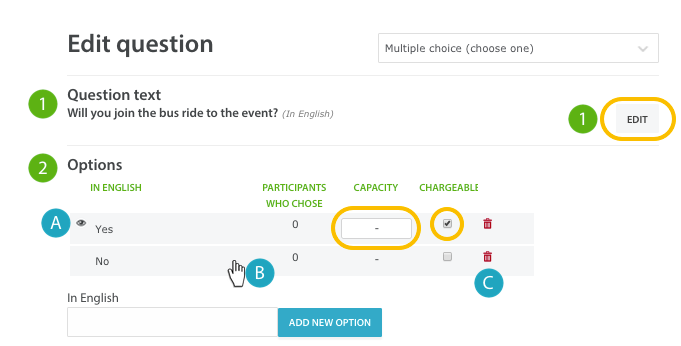 1) Edit the question. In the new window click "Edit"
2) Edit answer options
Edit text by

clicking on

the answer option text

Set capacity by clicking the capacity field

Make options chargeable by checking the Chargeable box
Other settings:
A) Hide an answer option: Hover your mouse over the choice and click the appearing eye icon  
B) Change order: Drag and drop the question with your mouse
C) Delete answer option: Click the trashcan
Question settings
3) Is the question mandatory for the participants?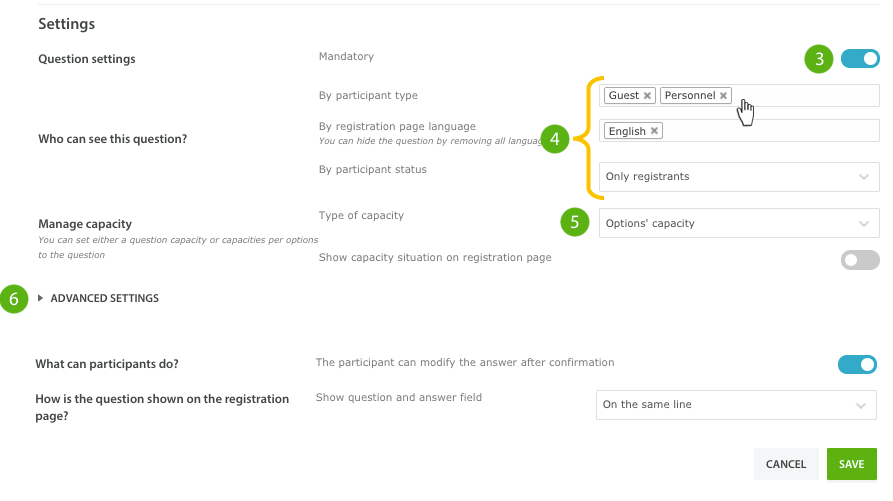 4) Who sees the question?
Participant types: Remove the participant type you don't want to show the question to
Participant's language: Remove the language in which you don't wish to show the question in multilingual event. "Do you need an interpreter for the seminar held in Finnish?"
Participant status: Show question to only registrants. Or maybe only to the declined? "Tell us why you cannot make it to the event".


5) Manage capacities
Options' capacity "First workshop can take up to 15 participants, the second up to 20"
Question's capacity "The two workshops can take up to 35 participants in total"


6) Advanced settings
Can the participants edit their answer to this particular question after registration
Are the answer choices presented below or on the side of the question
 ***
We're working on updating the new question module to all our Knowledge Base articles. However, there are quite a few articles so you might see the old picture in some support material for a while. But we try to be super duper fast!
Thank you for your patience