Please be aware that Lyyti is developed constantly and your view might not match 100% with the view described in this article.


Standard questions contain ready-made questions that are frequently used in event registrations. You can:
select questions to be added to the registration page and create the remaining questions yourself
determine which standard questions are mandatory
if your event has participant types, you can determine which question is visible to which group of registrants/participants
In registrations with a companion, you can select which questions are visible to the participant and/or companion
What is the difference with a standard question and a question I created?
Standard questions have other functions as well, other than just gathering information. They are special elements that may have specific functions linked to them.
For example the Ask for participation question determines the participant's status, and the standard questions' for mobile phone number and email are the only fields that can be used for communication through Lyyti. Also the invoice address information are directly transferable to an invoice, if you are sending invoices through Lyyti.
To distinguish between standard questions from self-made questions, standard questions always have the original wording in parenthesis in the question list on the registration page.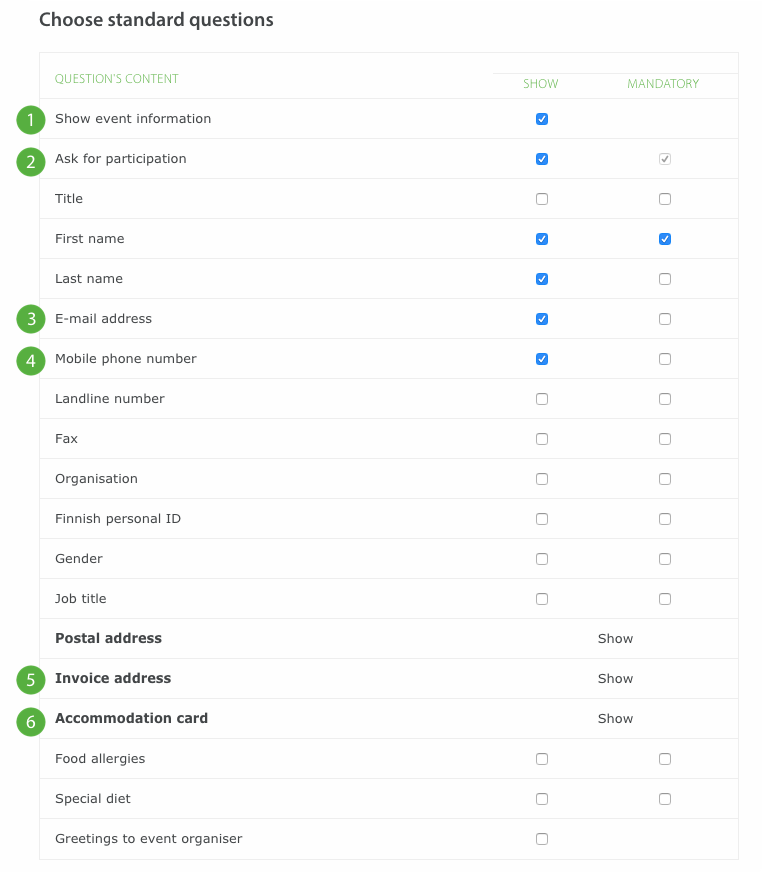 SHOW EVENT INFORMATION
The information is gathered from the Event information-page.

Event name
Date
Time
Venue
Address and map link



ASK FOR PARTICIPATION
The participation question, ie. I will participate: Yes / No is the one that determines participant's status. If you wish to allow invitees or registrants to decline the invitation or cancel their participation, the standard participation question must be shown on the registration page. Please note that in chargeable events, participants cannot cancel their participation without contacting the event organiser.


E-MAIL ADDRESS
Only this e-mail field can be used to send e-mails from Lyyti (invitations, reminders, confirmation, payment receipt...). Other self-created e-mail fields cannot be used for messaging purposes through Lyyti.


MOBILE PHONE NUMBER
Only this phone number field can be used to send SMS messages from Lyyti (reminders, mobile tickets, etc.).

INVOICE ADDRESS
Information entered in the invoice address fields are transferred to the invoice, so participants don't have to fill in their invoicing details twice, even though the questions are added to the registration page. Click Show to select necessary invoicing questions.
ACCOMMODATION CARD
Click Show to see all accommodation questions and select the ones you wish to show on the registration page. You can as, among other things: date of arrival, date of departure, nationality, address information or date of birth, country of origin, passport number and allow participants to request a certain roommate.