Please be aware that Lyyti is developed constantly and your view might not match 100% with the view described in this article.

Please notice that you cannot undo deleting an event. Delete events only if you are sure you do not need any information regarding the event and/or its participants.
Also, deleting an event does not anonymize participant data. Read more about anonymisation here.
If necessary, events can be deleted on the Events page by clicking the settings icon and then selecting Delete.

You can also delete an event by first selecting the event and then clicking Actions > Delete event at the bottom of the event menu.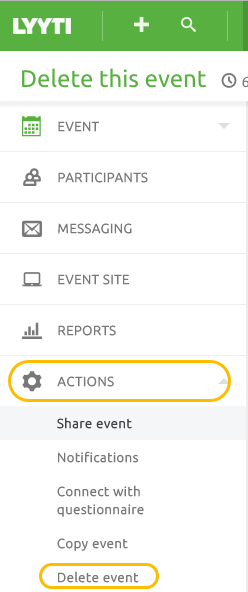 Chargeable events cannot be deleted. This is to make sure no information related to payments is lost. However, you can archive undeleatable events by setting an end date that is more than a week in the past. Every night at midnight the system automatically archives events that have an end date that's passed seven days ago.