Please be aware that Lyyti is developed constantly and your view might not match 100% with the view described in this article.

On the Participants page you can view and edit your list of participants of a certain event. Please note that a "participant" can be an invitee, a registered guest or even a no-show. Participant's status provides you important information about whether someone has registered already, have maybe declined the invitation or must be reminded of the registration.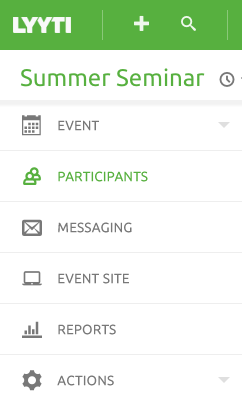 How to get there?
click on the event's name on Events page, click black drop-down menu triangle after the event's name or click on the number of participants shown on Event list view
when you're already in the event: click on Participants on the left hand side event menu
Participant's status
In Lyyti, the list of invitees, registrants etc. are always called participants, whether they have registered to the event or not. Participants have statuses that tell you if they have registered, declined, haven't reacted to the invitation, attending or no show.

A participant can be registered if they have filled in the registration form and confirmed their participation, or they can be:
Not reacted: they have been imported into Lyyti as an invitee but they haven't replied to the invitation through their personal registration link. (More information about personal invitations.)
Declined: they have received a personal invitation and declined the invite. They may also have registered first but after that they have cancelled their registration.
Attending: They are present or attended the event. This is a status that the organiser changes to the participants by hand or by using Lyyti's mobile application.
No show: They registered to the event but didn't attend the event. The organiser changes their status to no show.
Changing participant status
To change a participant's status, click on their status icon and select a new status. To edit many participants at once:
Select the participants you want to edit.

In the opening functions menu click Edit.
Select the question to edit: Status > Select a new status and save.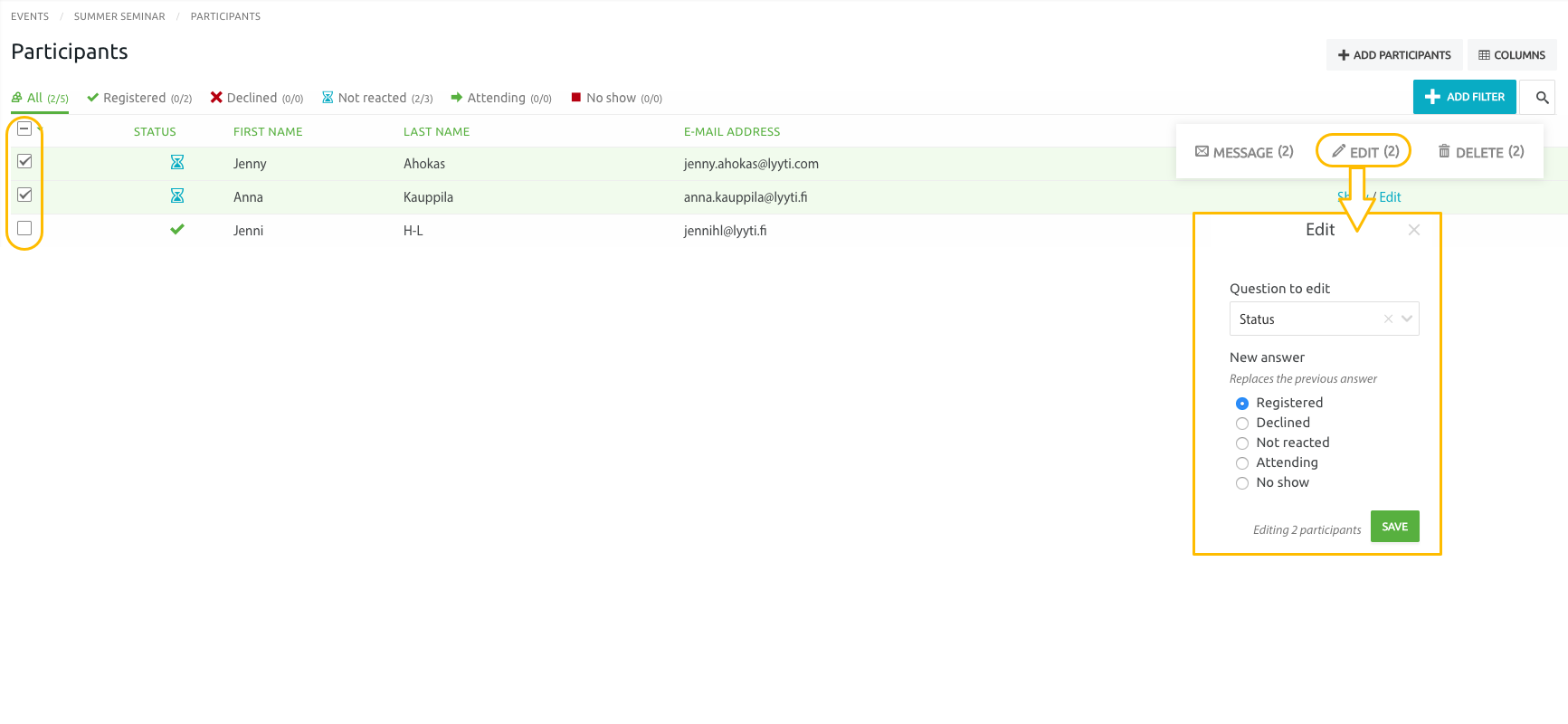 View, add and select participants

Filter participants by status. Click the status and you'll see all the participants with the chosen status. The number of invitees/participants is shown in the parenthesis. If you've added other filters (see 5), the number gives you the filtered result.
Add participants. You can add participants one by one, add participants from Excel or add them from another event.
Choose the columns shown on the participants list. You can select any question from your registration page and also some additional fields such as time of registration.
Filter your participants by their answers. Answers can be open text fields or multiple questions. You can add multiple filters that either make the selection more narrow (eg. participant who have chosen lunch AND dinner) or make it more flexible (eg. participants who have chosen lunch OR dinner). You can read more about filtering the participants page from here.
Search participants by name or email. If you've filtered your list, the search will cover only the filtered result.
Send messages, edit information and delete participants
1. Select the participant(s) for further actions. Once you've selected at least one, a new action bar appears (see 2).
2. You can choose to:
Send an email or sms to the selected participants.
Edit the participant(s) information. You can do this one by one or select several participants and edit their information at the same time.
Delete the chosen participants.