Please be aware that Lyyti is developed constantly and your view might not match 100% with the view described in this article.

When you already have participants in your event, and you need to add more invitees, you can add additional information to the new imported group. This way you can separate the new imported group from the existing participants, e.g. when selecting recipients in messaging.


Importing new invitees / participants from Excel
First add additional column to your Excel. You can add any kind of information to this column, just make sure that everyone on the Excel-list has the same information. It can be e.g. a date (1.12.)

After you've fixed your Excel, go to Participants page > Add participants> Add participants from Excel

Copy Excel columns that you wish to be imported and paste the information to the field in Lyyti. You do not need to copy the headings, but remember to copy the additional column that has the identifying information of this group.
Define what kind of information is in each column.
The additional column in your Excel should be Additional information in Lyyti.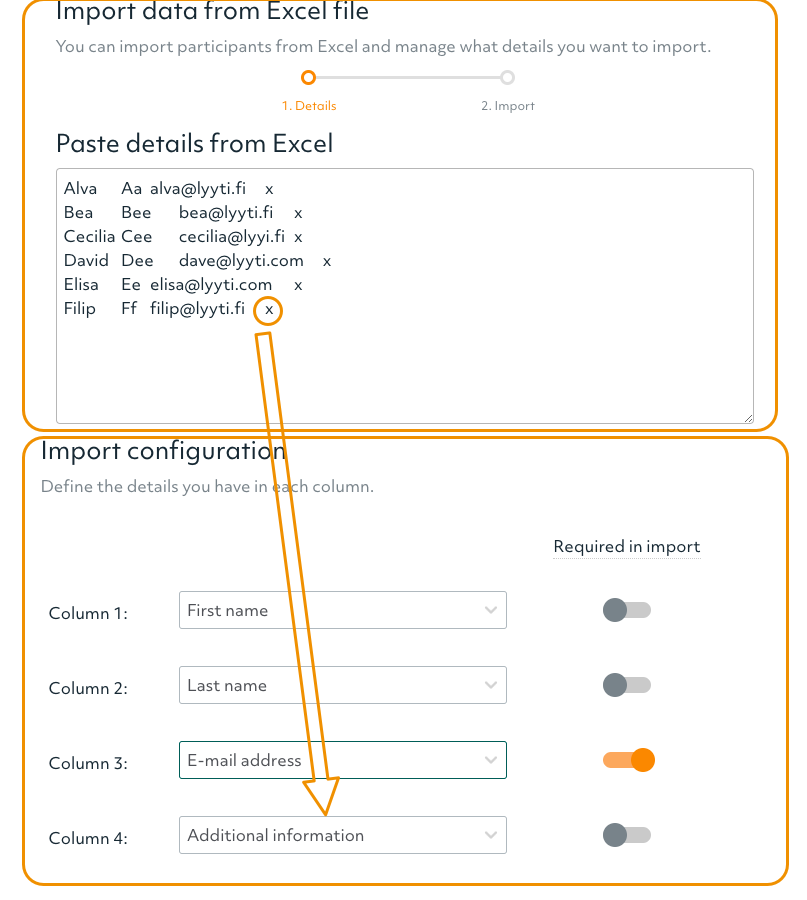 Import participants.

You can find more detailed instructions about Excel import in this support article: Add participants from Excel
Sending the message to the newly added participants
You can use Additional information when selecting participants to the message.


Go to Messaging and select the message you need send forward. If you wish to make edits to the message, select: copy. If the message is good as it is, select forward.
Add recipients by clicking on the field Message recipient(s)
Filter recipients by selecting Filter by question > Additional information + is + (type the information you added to your Excel). Add filter.
On the right is the list of the participants who match the filtering. Click on Add filtered recipients on the bottom right corner. If everything is fine, you can go ahead and send the message.