When you need to add several participants at once, use Excel import. Go to your event and on the Participants page, click (1) Add participants > (2) Add participants from Excel

1. In Excel, copy the information you wish to import and paste it into Lyyti's import field. Copy only the content and leave out column titles and such.
2. Lyyti generates a drop-down menu for each Excel-column you are about to import. Use the options in the drop-downs to determine the order of the data in your Excel file. In order to save all information correctly, these selections need to be in the same order as the data in the Excel file. If there are unnecessary columns you don't need, select --Empty-- in the corresponding drop-down. 
3. If your Excel file is long and may contain incomplete contact information entries, you can use the Mandatory- boxes to weed out insufficient or unqualified contacts. Let's say you need every person on the list to provide their e-mail address; tick Mandatory for the column that contains the e-mail address. All contacts who have failed to provide their e-mail address will be left out.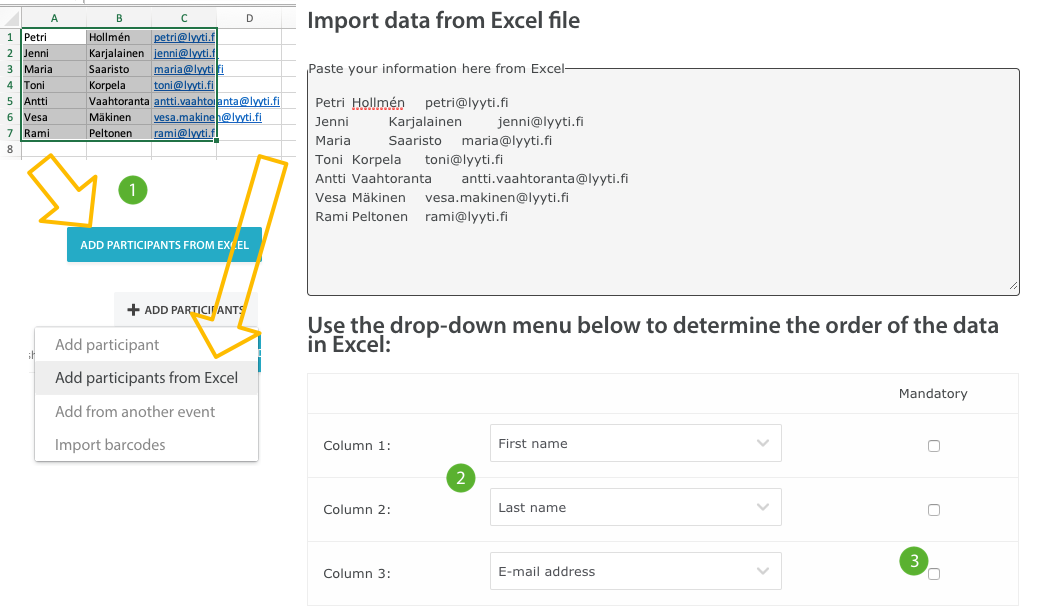 Import configuration
If your event has participant types, you can select a participant type to apply to all contacts in this import.

In a multilingual event you can set a language for these contacts.

Lyyti automatically checks for duplicate e-mail addresses (and compares the list to be imported with the addresses already in the event) so that no duplicate e-mails are imported. If, however, you wish to allow duplicate e-mails to be imported, select Allow duplicate e-mail addresses.
Click I have permission to send messages to the contacts I am importing. Why is this? All of the contacts you import into Lyyti must be from permission-based contact lists. It is prohibited to email purchased contacts through Lyyti. Use of purchased email lists will harm Lyyti's IP reputation and compromise all message delivery to and from all Lyyti users. Users who fail to comply with this policy will be blocked from using the Lyyti service.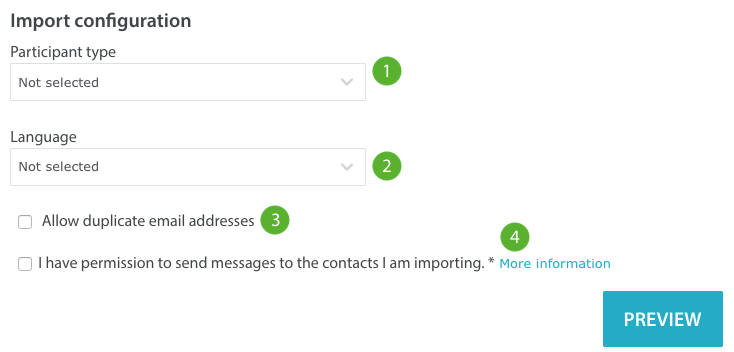 Finally, click Preview to see that all information is placed in the correct columns.
If everything is OK, click Import participants.
If there are formally incorrect e-mail addresses, click Back to edit the contents.
If the list contained duplicate addresses, you get a list of all duplicates and also of addresses that for some reason cannot be imported (e.g. wrong form). Go Back to edit or simply import the ones that can be imported by clicking Import participants.