This feature can be used with the following license packs: Starter, Basic, Professional, Enterprise
To add an attachment to your e-mail in Lyyti:
Add all necessary files to Materialbank (see insctructions: Materialbank)
Go to the event from which you would like to send e-mail
Go to Messaging > Create e-mail
Old Messaging tool:
In the text editor, there is a drop-down menu: Material bank. You can add files to the e-mail in two ways:


Click the mouse cursor where you would like to add the attachment. In the text editor's menu Material bank, click on the file you would like to add. If necessary, you can change the link wording by double clicking on it. OR
Write the text you want to turn into a hyperlink and highlight the text, eg. "click

here

to download". Select the word(s) you would like to transform into the attachment link, click on the text editor's menu Material bank and select the correct file
Continue editing the e-mail as normal and send it. (See Quick guide to sending an e-mail)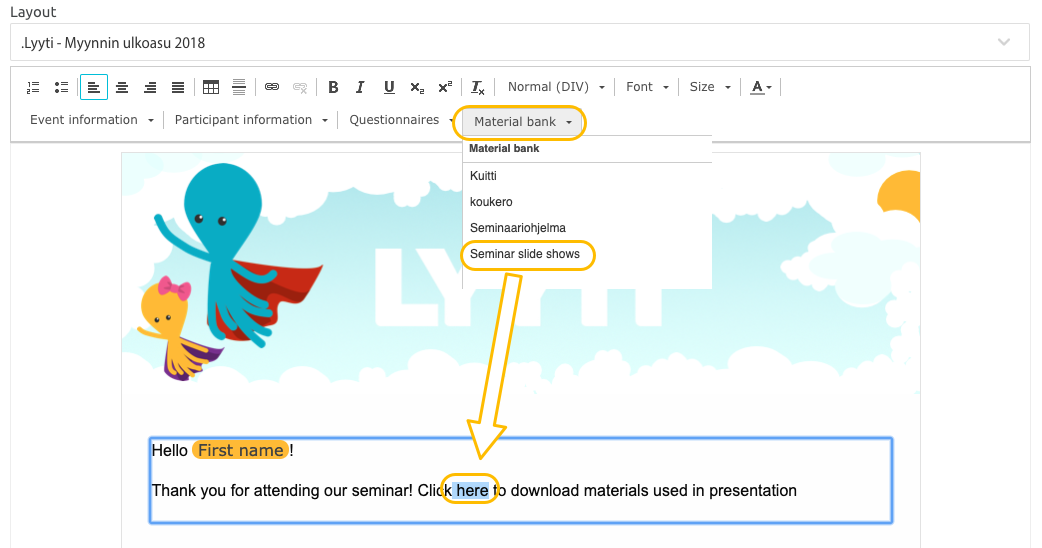 New messaging tool:

In the text editor, click link icon. From a pop up window, select Link type: File manager. This will take you to your Material bank and you can select the file you wish to add as an attachment. You can write the text to display, so your attachment appears as a hyperlink.