Create a mobile-friendly webpage for your event with Lyyti's Event site tool. You can add the program, schedules, speaker introductions, the menu and driving instructions. Lyyti will automatically add the event's visual layout.
The Event App is a mobile-friendly version for your event page. Your participants can save it to their mobile devices and access up-to-date event information anytime, anywhere. It is a big plus especially in bigger events where participants need quick access to the event's program before and during the event.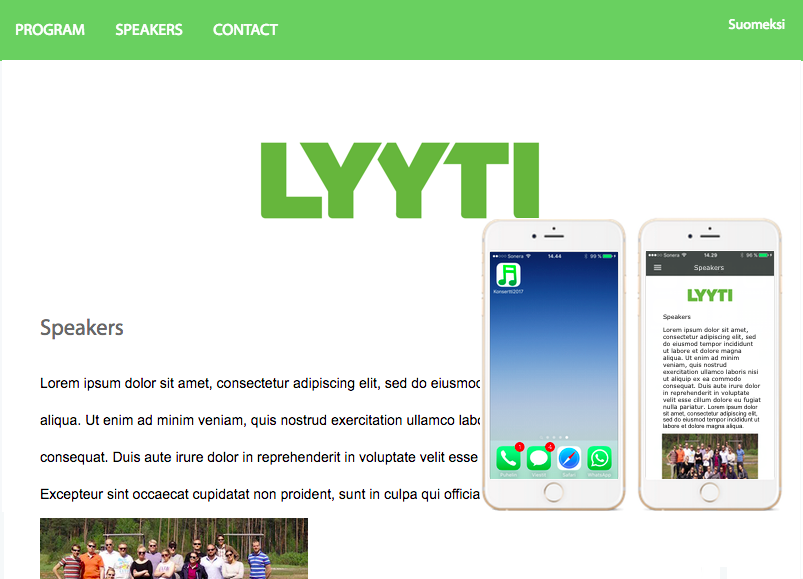 Create Event site
To create an event site, open the event and click Event site.
Select one or multiple languages by clicking Select languages.
If you wish enable the event app, click Create an Event App too.
Finally, click Create Event Site.
Event site pages / tabs
Next, start creating the event site's pages or tabs. Here's how to do it:
Give a title to the page.

Add the content.

You may also add tables or images (for images you'd need the image's url address).

Edit the text and use headers to make it more readable.

When the page is ready, click Save.
If you want to add a new page/tab, click Add new page.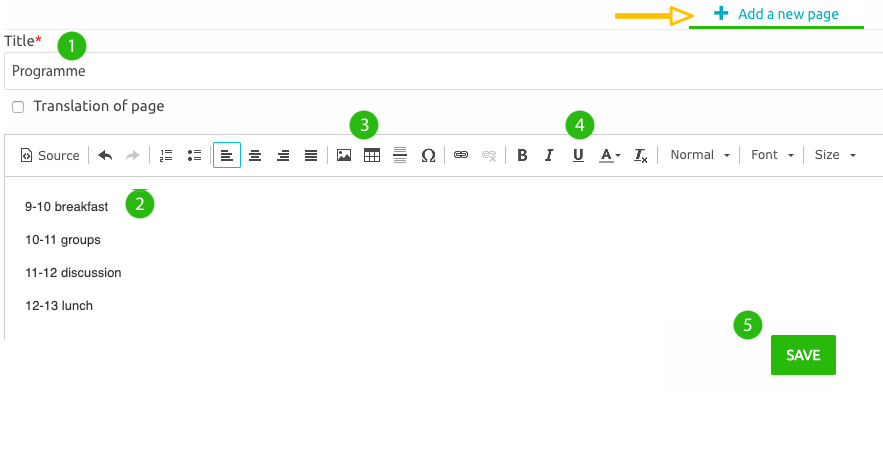 After saving a page, the gear icon next to the page title allows you to:
Edit the title of a previously created page

Hide or delete a page
You may also reorder the tabs by dragging them by the dots.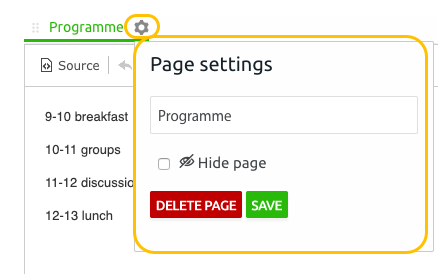 Settings
The Settings button allows you to:
Choose whether or not you want to include the registration page as one of the event site's pages.

Give a name and icon to the event app. The event app is a favourite of sorts that you can add to your phone's home screen. It is a hyperlink to the event site.
The event app icon will be shown on the participant's mobile device if they save the page. Please note that the image will update after saving. So, first, select the image and save to see the saved Event App icon.



Multilingual event site
If you selected to create a multilingual event in the beginning, each language version needs to be made separately. However, you may make use of the pages you've already created (and their formatting) and simply translate them into another language.
To create a multilingual event site, select a new language and click Select. If this is meant to be a translation of a page in another language, select Translation of page.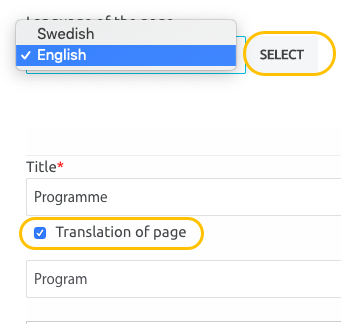 Event site URL
The event site's url address can be found under the Settings button. If you have created your own address to the actual event registration (e.g. www.lyyti.in/seminar), the event site's address is www.lyyti.in/p/seminar. It is the same address with a p/ added between in/ and the ending you've selected.

Personal address to event page
The participant's personal event page link is www.lyyti.fi/p/%RECEIVER_UID%.
When the personal link is sent via Lyyti, the participant will be directed to the first page of the event page, and from there on they can move to all other event page tabs.

If you've set the Access to site to Via personal registration link, when the participants arrive on the event site and they click on the Register here-tab, they will see their own personal registration page. If you wish to direct the participants to their personal registration link in the text of the event site, use the code https://www.lyyti.in/%SITE_OPEN_CODE%