Please be aware that Lyyti is developed constantly and your view might not match 100% with the view described in this article.
What is the unsubscription list?
The unsubscription link is added automatically to all e-mails sent from Lyyti. This way the receiver can click and say that they do not want more e-mails from your organisation. You can find more information about this at the end of this page.
If someone clicks the link Unsubscribe in an e-mail and confirms that they really want to unsubscribe, Lyyti will automatically block them from receiving future e-mails from you.
Extent of Unsubscription list
In Lyyti your admin user can decide whether your organisation uses:
a) organisation specific unsubscription list
b) event specific unsubscription list
or
c) user specific unsubscription list

a) Organisation specific unsubscription list
means that the receiver unsubscribes all messages from all Lyyti events that are organised by your organisation
b) Event specific unsubscription list
means that receiver unsubscribes messages from this very event
c) User specific unsubscription list
means that receiver unsubscribes messages from all events that are made by this very username.

Your organisation's admin user can ask our customer support (help(a)lyyti.com) to change the extent of the unsubscription list. Changes apply always to the whole organisation.
Manage unsubscription list

In the left menu, click Messaging and then Unsubscription list, to see all unsubscribed addresses and time of unsubscription. You can also add addresses one by one, export addresses to Excel or delete old addresses (please consider carefully if it's really necessary to delete).

If a receiver/participant has unsubscribed, they are marked with a grey background and red info icon. By clicking the icon, you can see a clarifying text.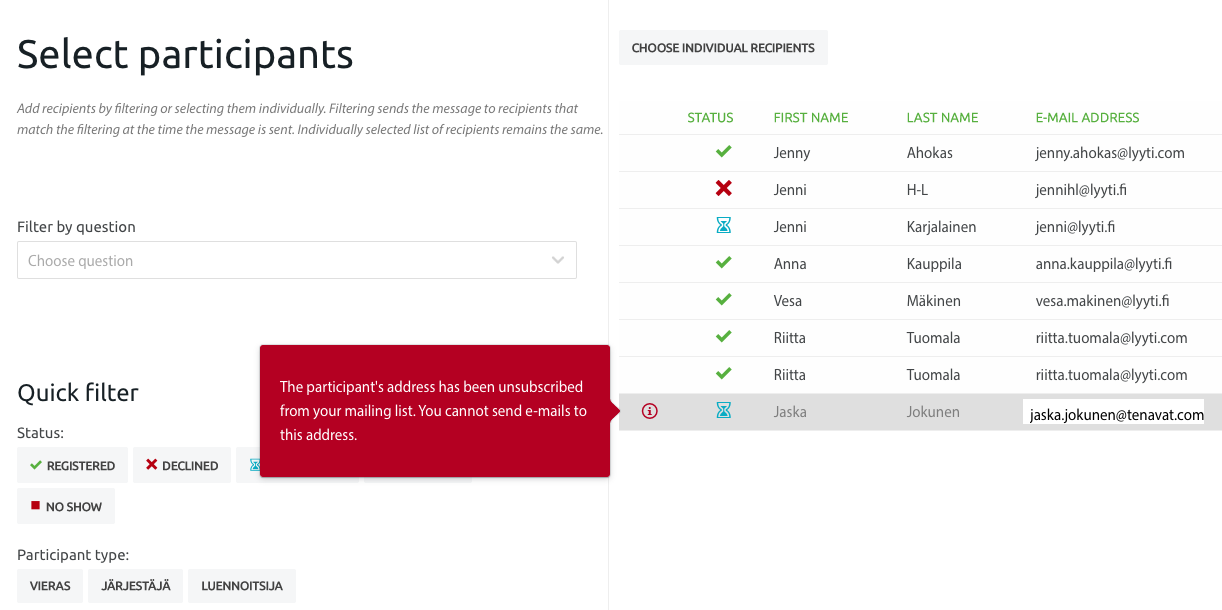 Why is the Unsubscribe link mandatory in Lyyti e-mails?
We want to make sure that all of your correspondence sent through Lyyti reaches your recipients. It is the number one purpose of the e-mail message and our first priority as an e-mail service provider. We also have to take responsibility regarding e-mail best practices and international legislation.
Lyyti handles tens of thousands of e-mails every day, sent from different e-mail addresses and companies. We are updating our messaging service and practices to comply with current requirements, to make sure that your messages will continue to be delivered smoothly.
Finnish legislation and European Union directives (2002/58/EC and 2003/58/EC) require all mass e-mailers to provide a straight-forward way for the receiver to opt out of the correspondence. We, as a responsible company, naturally want to meet this requirement. On top of that, we apply several different safety standards and technical verifications in order to ensure the reliability of our service.
We understand that some of the correspondence happening via Lyyti is meant for internal use only, in which case the opt-out link may be seen to cause problems. We must, however, comply to the international requirements mentioned above, to consolidate the dependability of our service and the equality of our clients, and to ensure reliable e-mail delivery today and in the future.