To see the status, possbile clicks or bounced addresses of a sent message, go to the Messaging section in your event.
In Messaging, you can see:
1. The message Status: is still a draft, has it been scheduled to be sent or already sent.
2. The number of recipients in total for each message. Click on the number of recipients to see details of different sending times and number of recipients.

Message status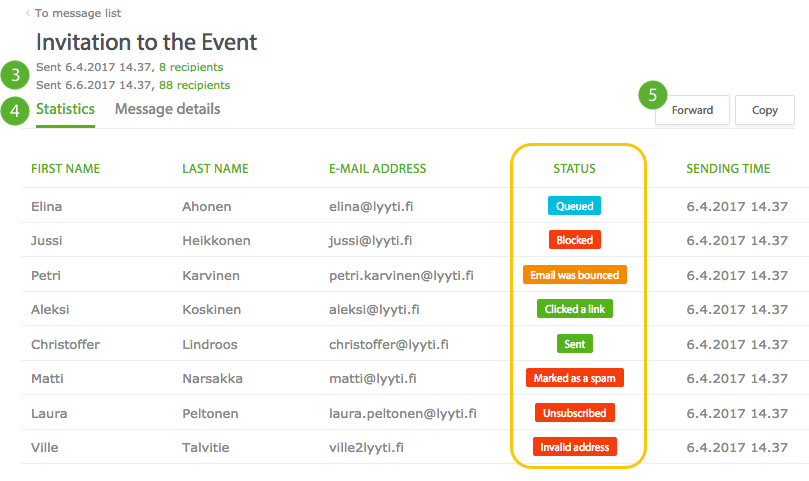 4. Messages can have different statuses:
Queued: The message is queued and waiting to be sent. After it is sent, the status will change.
Blocked: Previous messages to that participant could not be delivered, so no further e-mails will be sent to this recipient. Please check the address or that the recipient's inbox is not full.
Email was bounced: Could not be delivered. Check recipient address.
Clicked a link: The recipient clicked a link in the e-mail.
Sent: The message has been sent to the recipient.
Marked as spam: The recipient marked the e-mail as spam. They have been added to your organisation's unsubsciption list.
Unsubscribed: The recipient has unsubscribed from future e-mails from you and does not wish to receive more e-mails from your organisation.
Invalid address: Erroneous or missing address.
You can rearrange the list according to the status by clicking on the heading Status. The list is then rearranged and listed from best/worst, for example from Clicked to Spam.