Please be aware that Lyyti is developed constantly and your view might not match 100% with the view described in this article.
This feature can be used with the following license packs: Starter, Basic, Professional, Enterprise
This article will give you tips how to create an online event. First you'll need to create an event (see detailed instructions on how to create an event here. You'll also find a brief video on the basics here).
This article contains the following sections:
Compatibility with online/webinar softwares
Lyyti offers a generic connection tool that can be used with any online/webinar software as long as it offers a public/generic link to join the online event.

N.B. The list below is not comprehensive, as long as the software supports the amount of participants you've planned and can create an open link, it should be fine. This open link is used to create a personal online event link for each participant so the information of attending participants can be saved into Lyyti automatically.
Here's a list of most common online event tools and their compatibility with Lyyti's connector.
Creating an online event
Event information, in addition to basic information about the event, add the following:

Event Location type
Select online event if the event is only available online.
Select hybrid, if it is organised both online and in-person
Link to online event = Generic link to the online meeting / webinar
Text to display = The text that is shown to the user instead of the link's URL


Settings-page. When creating a hybrid event you should add participant types to your event so that you can get statistics on who will attend onsite and who will attend online. You can also add capacities for your participant types as well as activate the waiting list function.

Registration page. Make sure it's clear it's an online event and tell the participant, what they need for joining. Also, tell them how will they receive the link and/or instructions. Use the Opening text for the registration page to inform participants.



Thank-you page: Add the calendar note so participants can access their Zoom link from it.

Confirmation email, write detailed instructions on how to join the online event, e.g.:




Make sure that the link to join online event is shown in the confirmation's Participant details section.


Messaging
Email
Lyyti's messaging editor is perfect for sending instructions to your online event. You can use the online event template as a basis for your message.
The email template's default button already contains the link to the online event, if it was added to the online event's location field on the Event information page. You can also find it in the editor's personalisation menus.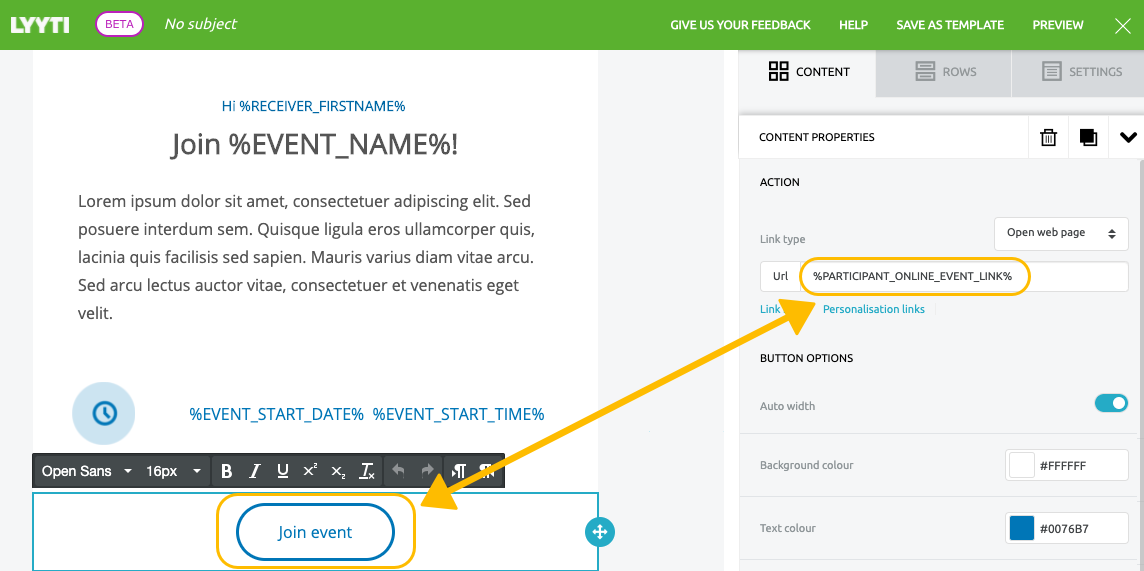 In the message you can share tips for a smooth online event, for example:
Please follow these recommendations for a good online event:
Join the event at least 10 minutes before it starts. This will give you time to ensure that the connection and sound settings are working and fix any occurring issues.
Use a headset with a microphone and keep your mic muted whenever you'e not speaking. This will prevent unnecessary background noise from disturbing others.
If you have questions, you can ask directly or post them in the Q&A section found at the top menu.
Etc.
SMS messages
It is also possible to send participants SMS messages to notify them that they've received instructions via e-mail, or attach the online event link directly in the SMS. Please note that the online event link is usually very long (tens of characters), and the personalisation code does not reflect the length of the actual link sent to the participant.
The online event's personalisation code can be found under the Participant details menu.

Joining an online event - participants
Personal link to online event
After adding the online event's public/generic link to the Even information page > Link to online event, Lyyti will use it to create personal online event links for each participant. The personal link is then available in:
The calendar note. The personal online event link is automatically included in the calendar note.
The confirmation email. You can select to show or leave out the link in the Participant information
Emails and SMS message. Use the online event personalisation links to personalise messages to each participant.

The link to join the online event opens 1 hour before the online event is scheduled to start. Until the starting time of the event the Join online event link is inactive.
Join online event: Participant's view
Participant can join your online event and hour in advance. When they click Link to online event either in their calendar note or in (confirmation message) they will arrive to their personal Join event -site. By clicking Join event they will arrive to your online event and their status in Lyyti will be changed from registered to attending: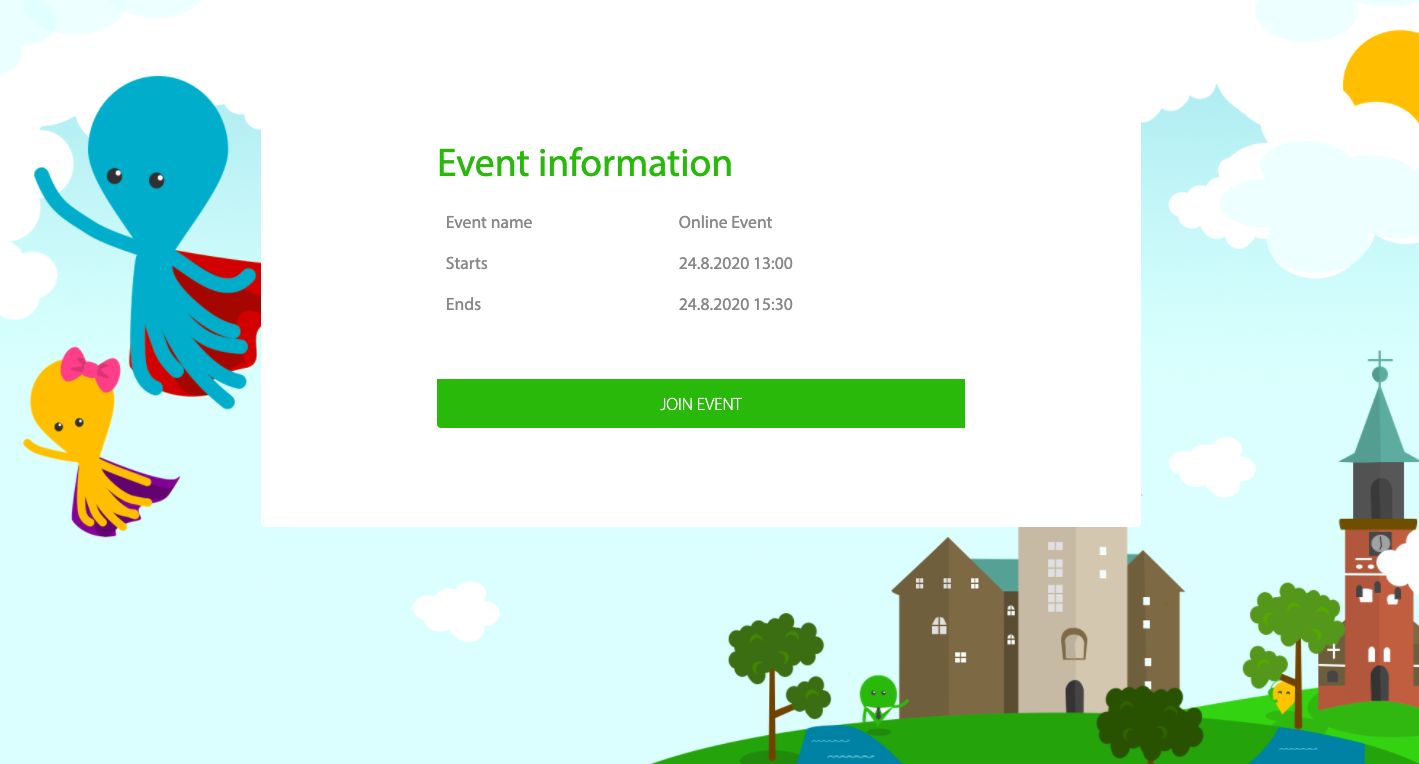 Statuses required to enter online event
The personal online event links only work if the participant is either marked as registered or attending in the event.
Not reacted, declined or no-show participants cannot access the online event via their personal online event link. If they try to do so, they will get a notification to move to the registration, where they can register via their personal registration link, if the registration is still open and there are seats left. If the registration is not open, they will see the usual registration page (error) notifications.
Public link to online event
Use the online event / webinar software's own public/generic link and add it as a hyperlink to any message in Lyyti or send it to your participant from your own email, post it in your intranet etc. If you don't want to use the personal link to the online event, you can use and the public link to participants in any way you like.
If participants join the even using the public link, Lyyti will not know who has actually attended the online event. In this case, you can check in manually everyone who attended, either by hand in Lyyti or by using Lyyti's mobile app. Remember that you can check in participants with Mobile app without QR codes, too.
After the event
When your participants have clicked the Join event-button after clicking on their personal online event link, their status will be changed from Registered to Attending in Lyyti. Now your participants who've joined the online event are set as Attending, and this is the perfect moment to find out what they thought of your event. Lyyti's Experience Value Score or EVS is a survey that is sent automatically after your event has ended to the participants who have the status Attending. Read more about EVS here.
EVS is automatically sent to your Attending participants at the moment when the event ends, and it will ask your participants if they thought if the event was worth their time. The question wording in EVS is always the same for everyone, and that will ensure you will always get comparable data. If you wish and your license model allows for it, you can also attach a survey of your own making to the EVS survey, so you can gather more exact information about how the participants perceived your event.
Introductory video