Besides with events, you can also utilise Lyyti in other sorts of data collection purposes.
One example is a lottery, where you can collect information on those who wish to take part in a draw and try their luck to win a prize. Create a form and generate a QR code of the open registration link. This way people can leave their contact information by simply scanning the code with their mobile phone and filling in the registration form.

From our own experience we know that this works really well in e.g. business fairs and expos.
Creating the event
1. Event date and time should be in line with how long you allow people to register for the draw.
2. Choose event type: Other. This way an automatic EVS survey won't be sent to the participants after the draw is closed.
Remember to check that the privacy policy register is correct for this kind of data collection.
3. Add all necessary questions to your registration page. You could remove the Event information field, as it doesn't really serve in a form like this.
It's easier for participants to take part in the draw if you add most of the questions as voluntary and only the email address question as mandatory.
4. Remove the calendar note from the Thank-you page and also from the Confirmation message. If you wish, you can send an automatic confirmation message to those who have participated in the draw. It is also a good opportunity for you to advertise your upcoming events!

N.B. You can edit the notifications that the participant sees after the participation time for the draw has finished. That you can do in Actions > Notifications.
We recommend that you remove the automatic messages and create your own notification text in the open text field to let people know that the draw has ended.


Open registration link as a QR code
Copy the open registration link from Registration link page. You can create a QR code for the link by using a free QR code generator. Here is one free generator tool.

You can print the QR code and add it to a visible spot in your stand. Participants can read the code with their mobile device and fill in their contact information to the Lyyti form.
If you do not have other tools at hand, you can always create a message with Lyyti's messaging tool and print the created message.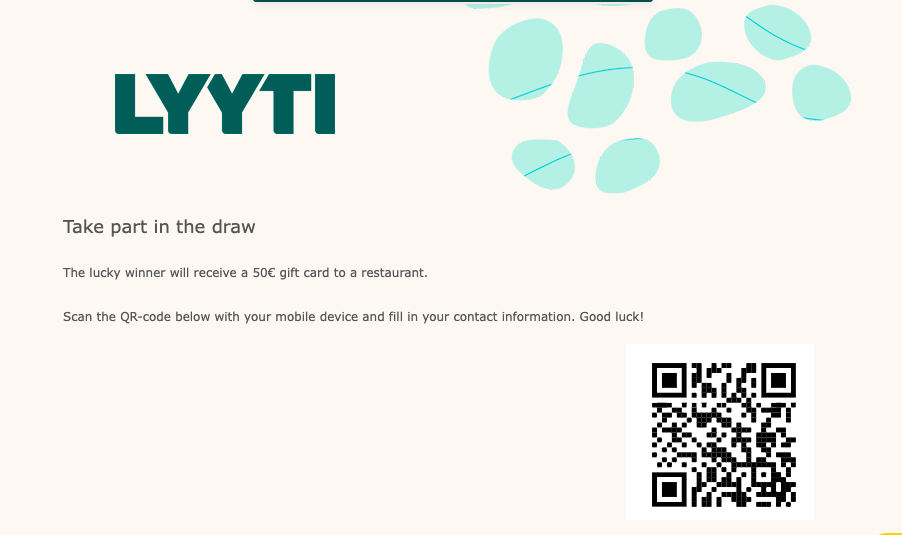 Drawing lots
By generating a (online) participant report in Lyyti you will get a list of participants with a number.
You can draw the winner by using a free tool from the internet. E.g. Google will generate a tool if you type in "pick a random number"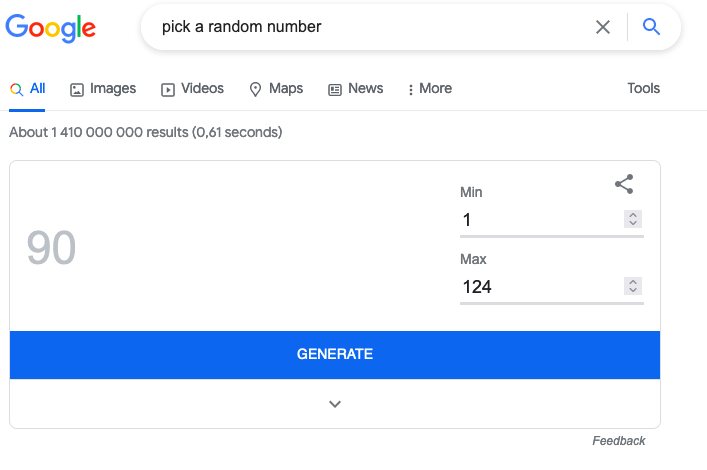 Create a message in Lyyti and let the winners know that they were the lucky ones. If your prize is a downloadable gift card, you can add the file to your email too!