Please be aware that Lyyti is developed constantly and your view might not match 100% with the view described in this article.
This feature can be used with the following license packs: Starter, Basic, Professional, Enterprise
After creating an event in Lyyti and having sent QR codes to participants (either in their confirmation message, name badge, ticket or mobile ticket), you can read the code later on at the event venue with Lyyti's mobile application. It is free to use and can be found by searching "Lyyti" in the App Store and in Google Play store.
The application needs internet connection to download participant data from Lyyti into your mobile device. In addition, you need a Lyyti username (e-mail address and password) and at least viewing rights to the Lyyti event to which you are about to read QR codes.
This article contains the following sections:
Mobile application
There are new versions for both iOS and Android. Go ahead and download the latest version to get all the improved features!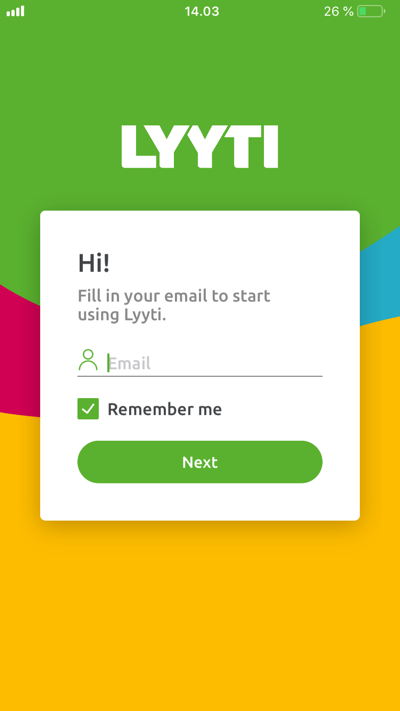 Participant list and participant search

Search participants by first name, last name or e-mail address. Participant search works only within the event.
Number of participants with each status (registered, declined, not reacted, attending, no show).

By default, you can see participants of all statuses.
You can filter statuses by clicking them, tap a status to show that status only.
You can also select multiple statuses.

The list is ordered alphabetically regardless of the status.
View participant information
To view participant's information, click on their name on the participant list. You'll see the following details: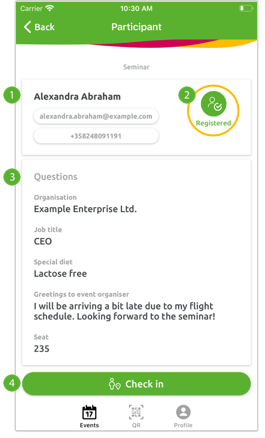 Participant's basic information: name and contact information.
Change participant status manually (select new status from the list).
Participant's answers to questions and other details added by the event organiser. The list shows only the questions that participants has answers to.
Check in participant. Their status will change to Attending.
Change participant status manually
Search a participant
Mark them as attending by swiping from left to right.

Select another status by swiping from right to left.

Undo changes by clicking the undo button right after making the change.