This feature can be used with the following license packs: Basic, Professional, Enterprise


When you are organising an event where you're collecting fees or payments through Lyyti, the easiest way for the participant is to use participant types. In this way the participant only needs to choose which participant/ticket type suites them best on the first page. If you don't have any other questions with fees, this might be the only question with a payment attached to it that they need to answer, they just fill in their contact information and move on to the payment section.
You can use participant types in all event types, be it a registration for one person, with company or as a group. If one person can buy tickets to several events at the same time, you can use a group registration process and create participant types according to the ticket types. With chargeable participant types you can use Lyyti's entry ticket feature, in which you can add entry tickets to the confirmation message. If you choose to send a QR code, it can be read with Lyyti's mobile app.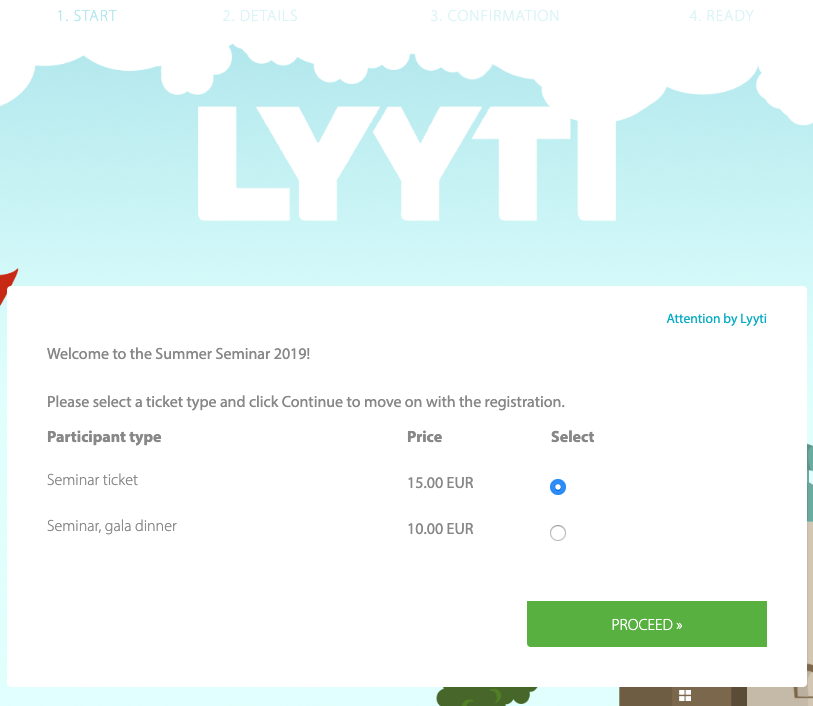 Start by making a chargeable event on the page Event information (see instructions here).
Create participant / ticket types on the Settings page (see instructions here).
Mark participant types as chargeable.
Continue creating the event as normal: add questions to the registration page, select payment methods, add prices to the products, edit the thank-you page and confirmation message and check if you need to use the waiting list. In addition, go to the page Manage payments (instructions) to select to which bank account the event's online & credit card payments will be transferred to; on the page Invoice data (instructions), select which bank account numbers will be printed on the event's invoices.
You should add terms and conditions about payments and cancelling. You can add them for example as a consent text to the registration form. For more detailed instructions, please see this article: Adding terms and conditions to chargeable events