To add questions to your survey, you have a set of different question types. To add a new question, quick on the desired question type.

This article contains the following sections:
Notice text
Use notice texts for an opening text and headers, as well as to give some structure to the survey. Notice texts aren't questions as such, so they cannot be answered to. Use notice texts to clarify questions and keep questions short.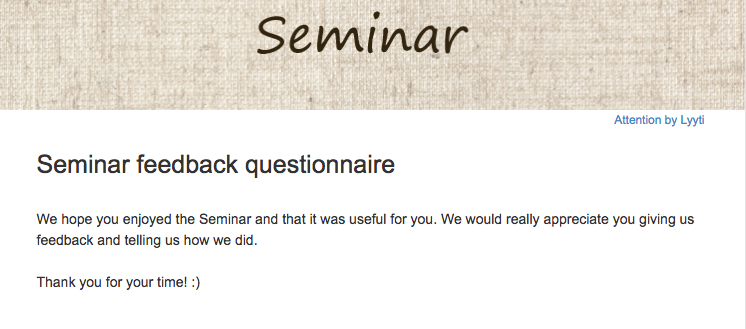 Short text field & Long text field
Open questions are answered in written form.
There are two question types, short and long text field.
Write the question, select whether or not the question is mandatory and save. Lyyti will automatically create the answer field beside the question.


Multiple choice (Choose many) and Multiple choice (Choose one)
Enter your question and its answer choices and define, whether respondents can:

choose one of the given options


choose many


Enter answer choices on separate rows.
Menu
Respondents select one of the given options. There are two types of menu questions.
Drop-down menu:
Selection box: Selection box allows you to define how many of the given options are shown at once. Drop-down menus show options after the menu is opened.
Scale of values
Use the scale of values if you have several questions that you wish to be valued e.g. from 1 to 5.
The scale's values can be either sliding or defined values.


If you have created questions already, you can: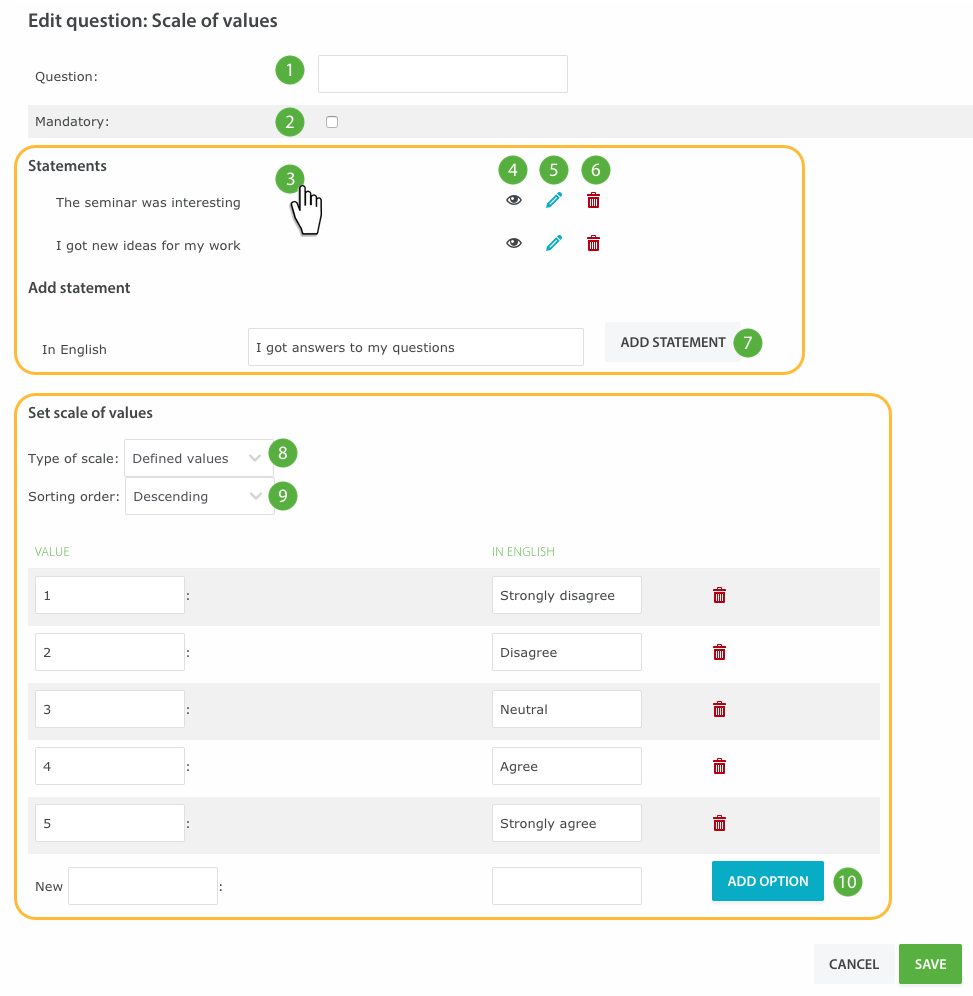 Enter a question text.
Select whether or not the question is mandatory.
Reorder previously added statements: Drag & drop them in the correct order.
To hide a statement, click the eye icon. This is useful if someone has already answered to the question and you can't delete the question, so you can still hide it.
Edit statement text by clicking the pen icon.
Delete statement.

To add new statements:
Add new statement. Previously added statements are listed above.
Choose a scale type:

Defined values: fixed values, each with a written description, if desired.
Sliding values: creates a sliding scale with values of you choice, e.g. from 1 to 100 or from 4 to 10. You can also enter a written description.

Define sorting order: Ascending or descending.
Add values. The column "value" is for statistical purposes, it is used for data processing in Lyyti and in other softwares, if desired. In the field "in English" (or other language), write the actual value that is shown to the respondent.
You can also add a new value and its description. Finally, click Add option.
Remember to save the whole question before exiting this view.
Date
The date question adds a calendar to the survey so the respondent can select a date.
Enter your question, for example "The seminar was held on" and save. Lyyti will create a calendar view right next to the question.