Please be aware that Lyyti is developed constantly and your view might not match 100% with the view described in this article.

This feature can be used with the following license packs: Starter, Basic, Professional, Enterprise
Cancelling a participant in an event free of charge
Participants can cancel their participation until the last registration day by clicking their own links (Edit, Cancel or Registration link) - however this can only be done if, on the event's registration page, you have the standard question "I will participate: Yes / No". You can also set another date for cancelling the participation that is a later date then the last date for registration (Event settings).
When you, as the organizer, wish to cancel a participant or mark them as declined, you can do the following:
Open the Participants page
1) Click on the Status icon on the participant you wish to cancel.
2) In the opening menu, select Declined.
3) Lyyti will ask if you'd like to remove reservations > yes, Remove reservations. This will remove participant's answers from questions that have a set maximum capacity. After removing reservations, other participants will be able to reserve them. Answers to questions that don't have capacities will not be removed.
If there are questions & answers that participants are not allowed to edit or they are chargeable, you can also choose to remove capacities for locked and chargeable options.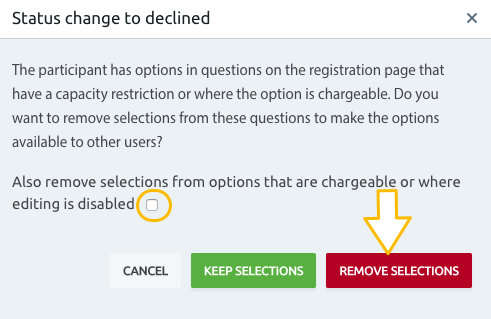 Edit the participant's information
Edit participant information from the Participants page
Select a new status for the participant: Declined
Note! Now you would still need to edit and remove answers - by hand - to questions that have a set maximum capacity, since in the edit mode, Lyyti will

not

do it automatically. In the example below, you would remove the number of gala dinner tickets.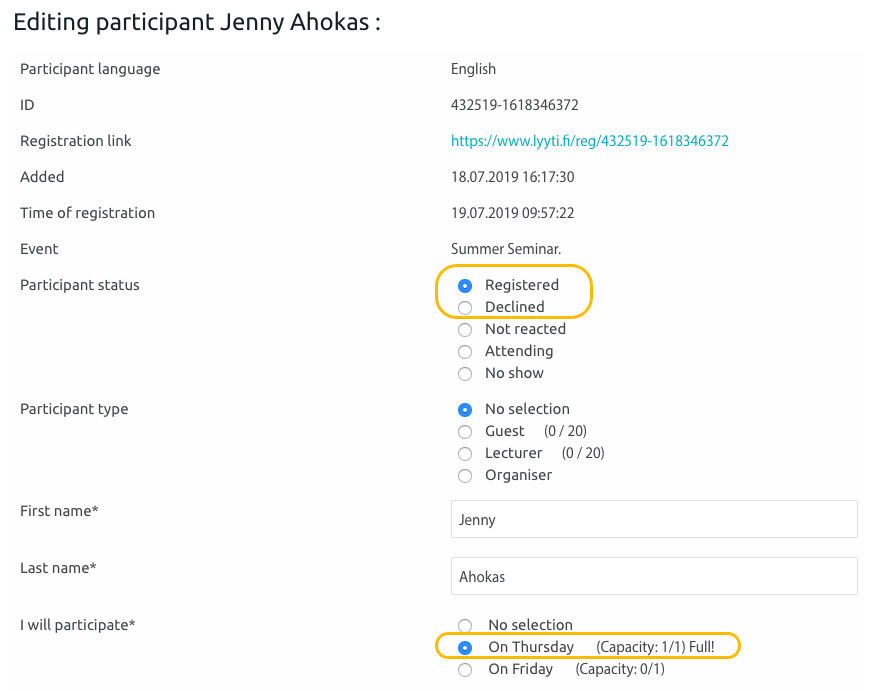 Remember to save the information at the bottom of the page.


Cancelling a participant in a chargeable event
Participants cannot cancel their participation if the event is chargeable in Lyyti. This is due to the fact that cancelling participants often involve refunding the ticket, participation fee etc., and this can't be done automatically. If you are willing to make refunds, we recommend getting in touch with the participant and discuss possible ways of refunding the money.
Refunding process if participant paid via invoice
Lyyti is not responsible for refunding or invoice modifications, as invoices are paid directly to the organizer's bank account. In this case, Lyyti's customer (the organizer) and participants should agree on a way to refund the money.
If you have refunded money to the participant, we advise writing it down in Lyyti's Accounts receivable to help your own accounting team with their work.
Search for the invoice in Accounts receivable and click on the binoculars to see & edit the invoice details.
Click Add transaction.
Select from which bank account the refund was made, when and, also, enter a negative sum in Amount to match the refunded sum. Save.
Please note that Lyyti will not refund any commissions.


Refunding if participant paid via online bank / credit card
Lyyti is not responsible for refunding fees paid via online bank (in Finland) or credit cards. If necessary, Lyyti can refund credit card payments directly to the participant's credit card or if you are collecting online payments with Paytrail, Lyyti can do Paytrail refunds for you. Paytrail refunds are charged according to the current valid price list. If you need help with online payment refunds, please contact our Customer Support at help(a)lyyti.com for more details.


Please note that Lyyti will not refund any commissions.