In this article you'll find tips for beginner Lyyti-users. We wish that your first event creation is as smooth as possible!
Event or Survey?
Many wonder wether they should create an event or a survey. It is not unfortunately possible to copy an event to a survey or vice versa, so before you start creating either an event or a survey, here are some questions that might help you to choose:
Do you need to collect contact information and/or anonymise them later?
Does the participant/person need to receive a confirmation message or do they need to be able to edit their responses later?
Do you need to customise the link to the questions?
Do you need to use standard questions, a quantity question, or the attachment question to gather attachments from participants?
If the answer to any of these is yes, consider an event.


If you need graphs of the answers (with percentages), or you need a scale of value -question, then you should consider a survey.
For more information see Event or Survey -article.
Open or personal registration link?
Basically, open registration link is used when you do not know exactly who to invite and a personal registration link is used when you want to invite certain people to your event.
You can publish open registration link anywhere. Instead, a personal registration link can only be sent from Lyyti.
Nota bene about open registration link:
An open link does not recognise, if the same person is already in the Participants-list. Imported participants will stay as not reacted participants, because participants that register through open registration link are added as "new" participants.

When using open registration links, it is not possible to send a targeted reminder to those that haven't replied yet, since Lyyti does not know who the link has been sent and/or which of the recipients has registered (open registrations are not linked to already existing participants in Lyyti).
Nota bene about personal registration link:
If your list of participants that you wish to invite to your event is very specific, or you want to track which participants have registered and who hasn't yet reacted, the personal registration link is your best option.

The participant cannot change their e-mail address, since it is automatically locked. This is what makes the registration personal and it cannot be changed to another person.
Once a participant registers via their personal link, their status changes from not reacted to registered. You can easily send reminder messages only to those who have not yet responded to the earlier message.
Personal registration link can only be sent from Lyyti, using personalisation links.
For more information, see a full article on open and personal registration links.
Participation question and other standard questions
Standard questions have other functions as well, other than just gathering information. They are special elements that may have specific functions linked to them. For example the Ask for participation question determines the participant's status. If you haven't used participation question in the registration page, it is not possible for the participant to cancel their registration themselves.


The standard questions' for mobile phone number and email are the only fields that can be used for communication through Lyyti. To distinguish between standard questions from self-made questions, standard questions always have the original wording in parenthesis in the question list on the registration page.
For example: If you've added a self made question about email address, you cannot send emails to your participants. Lyyti does not recognise information that is in self made questions and is not able to use this information in messaging.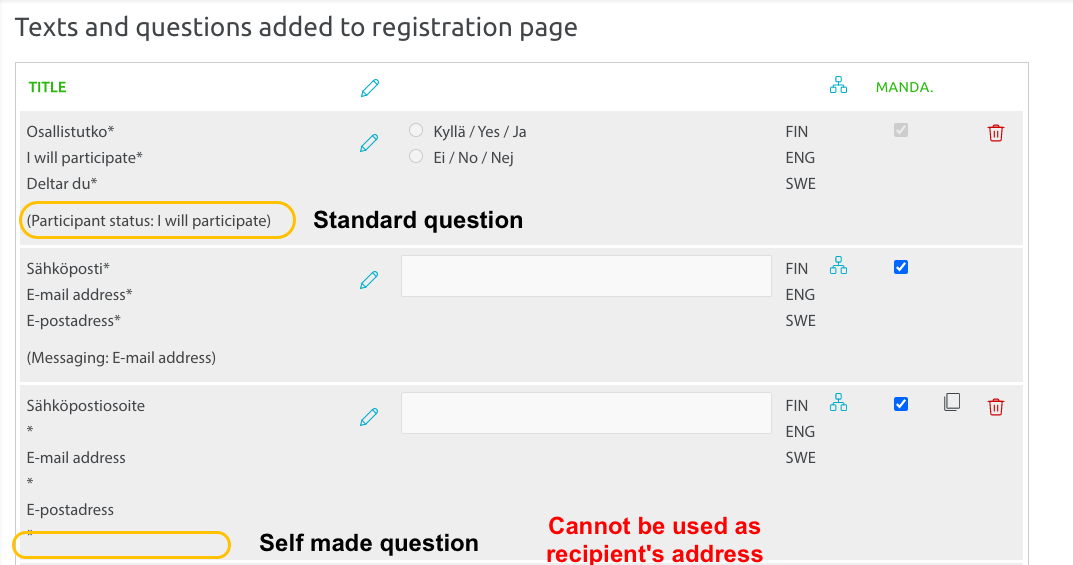 Preview
You can open a preview to a separate tab. This way you can take a look how your registration page looks like when editing it. You'll find preview option in the top right corner:


NB: If you finish registration in the preview mode, this test registration will show on the Participant page. You can remove the test participant if you want. If your event has payments, you cannot remove test participants, but you can mark them as declined.