Please be aware that Lyyti is developed constantly and your view might not match 100% with the view described in this article.
To create the actual registration form, go to Registration page. If the participants are allowed to register in groups or with a companion, you can show different questions for the contact person, the participant and their companion.
The registration page doesn't only have to be used for registrations, you can also use it as a site for announcements or as a teaser site for an upcoming event. In that case you would also need to hide all questions from the registration page (below the text editor, select Hide questions from registration page > Yes) to disable registration. When you choose this alternative registration will not be possible on the site and only the text you choose to write will be shown. This application is useful for e.g. save the date-announcements etc.
First, choose which layout you wish to use on the registration page. Then type in the information the participant needs to want to register to your event. This is not to be confused with the invite, so the information on the registration page should be different than the information in the invite.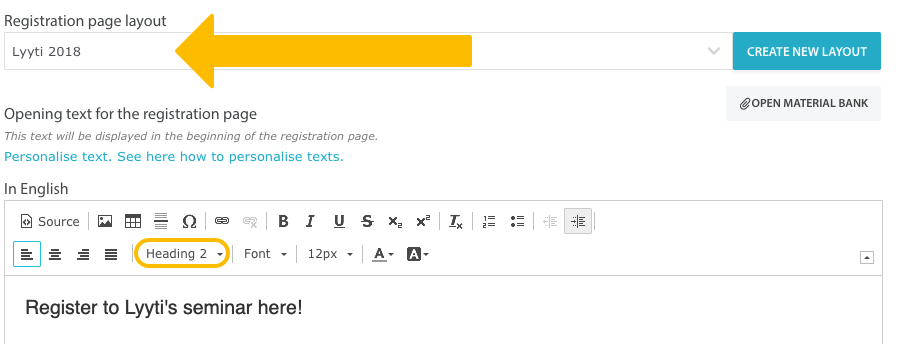 All the texts, questions and attachments are added on this page. At the bottom of the page there are several options under Add new field and Add question, which allow you to add any kind of field or type of question.

With every question you have the possibility to:
1) Edit the question by clicking the pen icon
2) Define if the question is mandatory
3) Delete question (if there are no answers given)
4) Move the question by drag&drop (if there are no conditions added)
5) Create a condition, i.e. a rule determining when and to whom the question is shown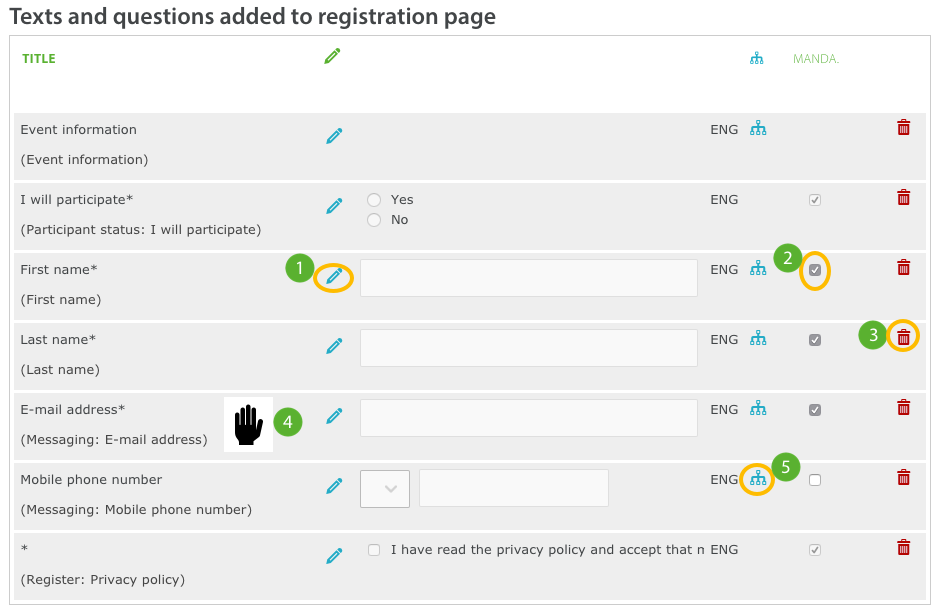 Please note:
Participants spend only a brief moment on the registration page → Don't use the registration page as the only source of important information. Remember to add all the important details into the confirmation message.
Smart ways to set up the questions:

Chronologically, based on the course of the event
By themes (accommodation, traveling, program...)