Experience Value Score, or EVS for short, helps event organisers better understand the impact of their events. The aim is to unify the measuring of event success, despite event types - what is important is if the participants felt the event was worth their time.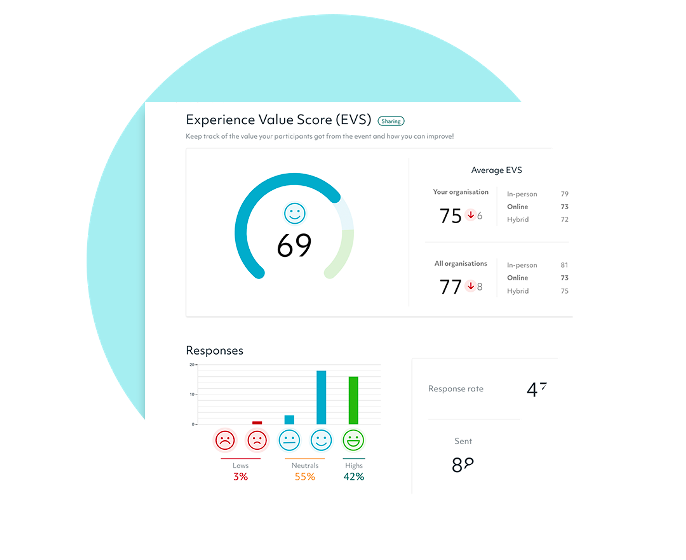 The EVS measuring method is simple, but interpreting the data can vary a lot. Here's what Lyyti has learned so far about the EVS:


1. Over 90% of evaluations are Agree or Strongly agree
Perhaps people would rather think they spent their time well than admit they wasted time.
Even though 3 is neutral, our own experience is that a score of 3 is a statement, and the participant wants to signal that they weren't impressed.
2. Analysing at least 5 to 10 events before making conclusions will set a strong baseline
Don't give up if you first feel like you fail. That's when you start to see what works and what doesn't.

3. There's no significant differences between nationalities or industries on how they evaluate events.
4. You have created an impact with your event when the audience answers Strongly agree
You don't have to be perfect but always aim to improve.
5. Onsite events perform better than hybrid or online events
Live events definitely feed our need to connect with other humans but there's a lot to discover when it
comes to organising online or hybrid events.
6. With larger events, it becomes more challenging to achieve good EVS results
Are you aiming to be appreciated by many or loved by a few? Think about your strategy.
7. Achieving +90 EVS is rare and EVS of less than 60 means you could have done better
The average EVS is 74. Analyse your baseline and you'll learn to set the correct target
8. In case there are any technical problems, the scores will go down immediately

9. Content and emotional engagement is important
To improve your EVS, people should feel they learned something new at your event, that they felt inspired or emotionally charged. This makes the event feel unique.
10. The EVS of internal events is in line with the general employee satisfaction
Event evaluations are rarely done in a vacuum. External factors are at play especially in a familiar
context.


For more information about the EVS, head over to www.lyyti.com/en/evs
See also these help articles:
Experience Value Score (EVS) - FAQ
Experience Value Score (EVS)
Experience Value Score (EVS) (10min)