Please be aware that Lyyti is developed constantly and your view might not match 100% with the view described in this article.

This feature is included only in Lyyti Professional and Enterprise licenses, and can be included in other licenses as an Add-on feature.
With Pulse EVS you can collect feedback without creating an event to Lyyti. Pulse EVS doesn't need to be connected to an event, it can be used in any situation where you need to collect feedback. Users connect to your feedback survey via a QR code or an online link. It helps you to collect quick impressions e.g. from expo-goers or store visitors. Pulse EVS is available in the Lyyti mobile app and Lyyti Next Gen.
On the mobile app
To set up a Pulse EVS survey on a mobile device, click EVS in the bottom menu of your Lyyti application. Here you have a list of all active, upcoming and past surveys.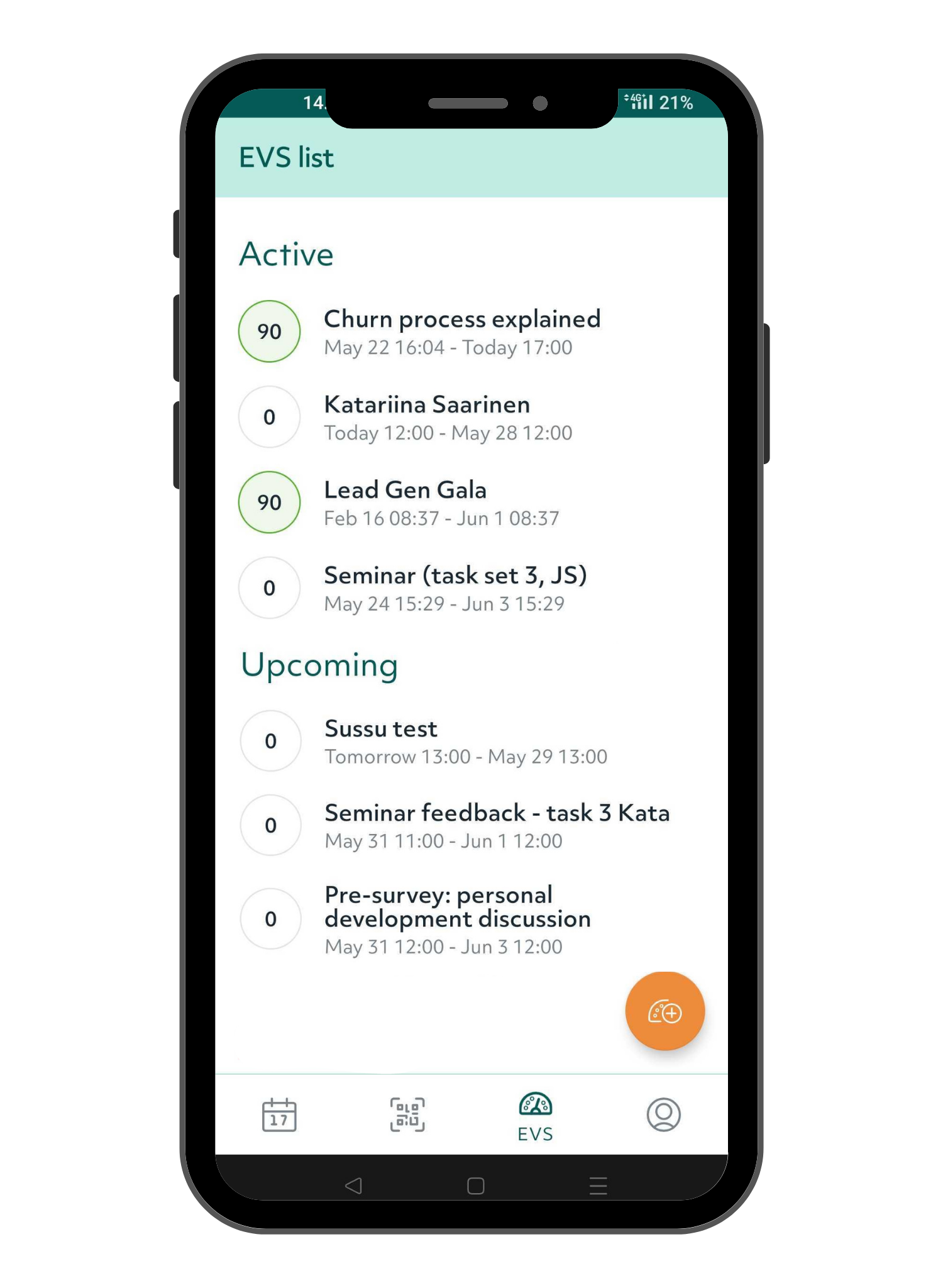 Create a new survey by clicking the orange button on the bottom right corner. Then, insert the name of the survey, how long the survey is open, choose which brand you want to use and set the target score. When you're done, click save.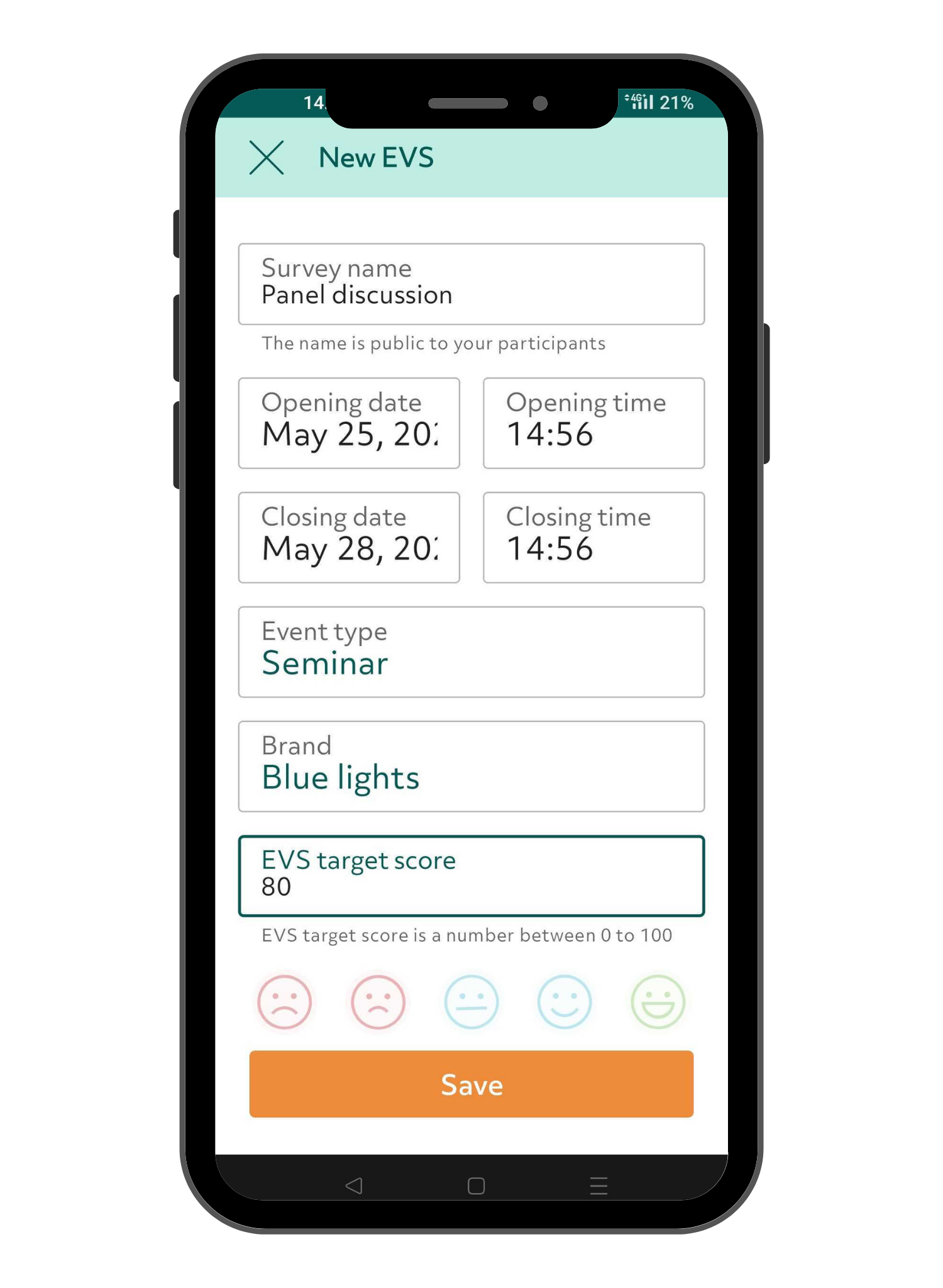 After this you can start collecting feedback with a QR-code or a url link. You can save the QR code as an image on your device or share it directly through the app. You can share the QR code or the link anywhere you like: social media, company website, via e-mail, printing the code on a flyer or a t-shirt... you name it!
On desktop
To create and manage Pulse EVS surveys on desktop, head to Lyyti Next Gen. Next, click Surveys on the top menu and choose EVS list in the left hand side menu. All your EVS surveys are listed here, be they Pulse EVS surveys or EVS surveys connected to events.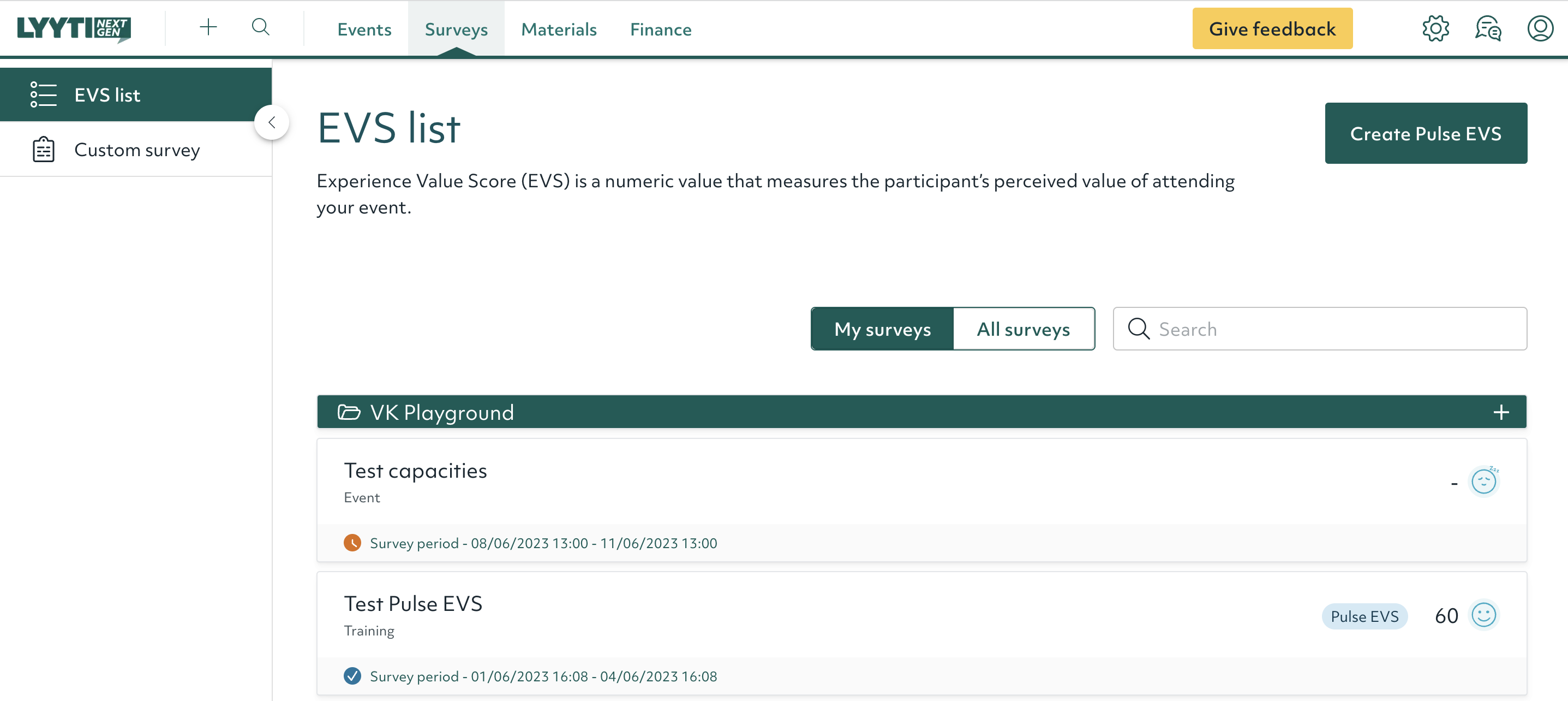 To create a new survey, press the button that says Create Pulse EVS. Then, insert the name of the survey, opening and closing date, choose the time zone and folder, and set a target score for the survey.
Like with the mobile app, you get both a QR code and a url link to the survey that you can share anywhere you like. You can see the numeric score of the EVS on desktop as well as the mobile app. Open replies, i.e. answers written in the "What influenced your rating?" field are currently accessible only on the mobile app.

For more information on EVS (Experience Value Score) and how the results are calculated, check out this article.