This article contains the following sections:
General info
Lyyyti offers all its users the possibility to anonymise participant's personal data required by the EU's General Data Protection Regulation (GDPR). Using data protection features requires that you have signed Lyyti's Data Protection Appendix (DPA).
After signing the DPA, your company will be given features that meet the regulation's requirements. Regarding the DPA, we have already been or will be in contact with your company's admin user (how do I know who is our admin user?), so please contact them to make sure that the DPA has been signed and delivered back to Lyyti.
In addition to the basic features, there is also a more comprehensive Compliance Center for more advanced management of participant data. The Compliance Center is only available for certain Lyyti license types - please contact gdpr(a)lyyti.com for more information. 
Basically, both tools allow you to easily anonymise participant data in all your companyt's Lyyti events. The only thing that remains is a mention of the participant's existence, but all personal data, answers and organiser's notes will disappear. Only in chargeable events will participant data be saved, since the service has a legal responsibility to store payment data.
Data protection funtionalities in Lyyti:
 
GDPR basic features
Compliance Center

Participant's
consent for registration
and use of data

x 

x 

Search of personal data within organisation

only user specific
and event specific


x

Download personal data
(PDF ja JSON)

-

x

Anonymise personal data
(find & forget)

x

x
For questions concerning data protection, please contact gdpr(a)lyyti.com.
Basic GDPR features
Basic GDPR features are available to all admin users (except the ones using our Compliance Center). You can find the basic features under Company settings > Anonymise participant data.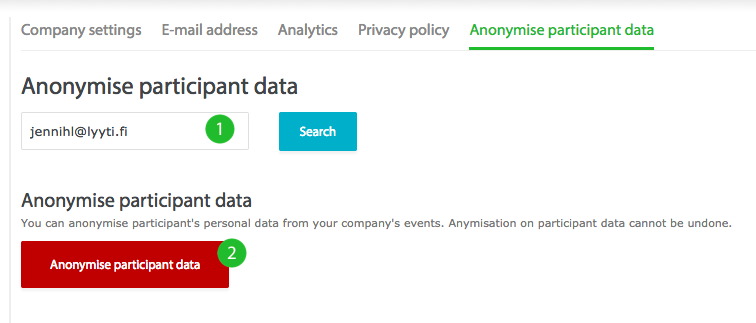 Search participant by their e-mail address.
If the address is found, you can anonymise that participant's data by clicking Anonymise participant data.  
Confirm anonymisation on the next page.
Note! After anonymising participant data, the data cannot be recovered in any way since it has been anonymised also in our database.
To see in which Lyyti events the participant is, you can search for their data manually by events and the search must be done separately for each user account. The search can be done on the My events page.
Compliance Center
Lyyti's Compliance Center can be found in the left menu, if it is a part of your license. The Compliance Center is available for your company's Lyyti admin user.
For questions concerning data protection, please contact gdpr(a)lyyti.com.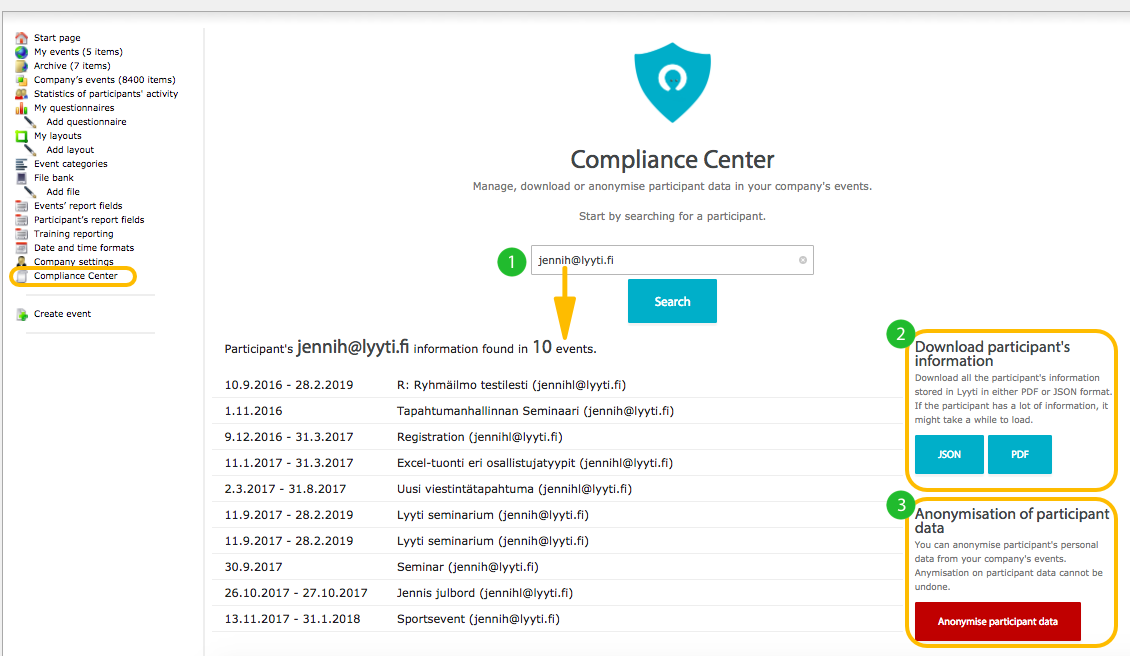 Search participants and anonymise participant data
Search for a participant and Lyyti will give you a list of all your company's Lyyti events where the participant can be found.
The list can be downloaded as both a JSON-file (machine readable format) and as a PDF-file, in case you also need to deliver the file to the participant querying about the information you have of them.  
You can anonymise the participant's information by pressing the Anonymise participant data-button. 
Confirm the anonymisation on the following page. 
Note! After anonymising participant data, the data cannot be recovered in any way since it has been anonymised in our database as well.
How anonymisation affects participant data and status
If the event that the participant has registered to has not yet happened, the anonymisation will automatically set the participant's status as Not participating. An event organizer does not need to accept a participant whose identity can't be confirmed to an event.  
If the event in Lyyti has already happened, the participant's status will not change after the anonymisation. 
The anonymisation will delete all the participant's information, and will only leave an empty row of data that there was a participant in the event but they have been anonymised.