Start creating an event normally. On the Settings page, select Participants register to the event: as a group to continue with the setup.


This article contains the following sections:
Capacities in group registration
You can set different capacities in group registration: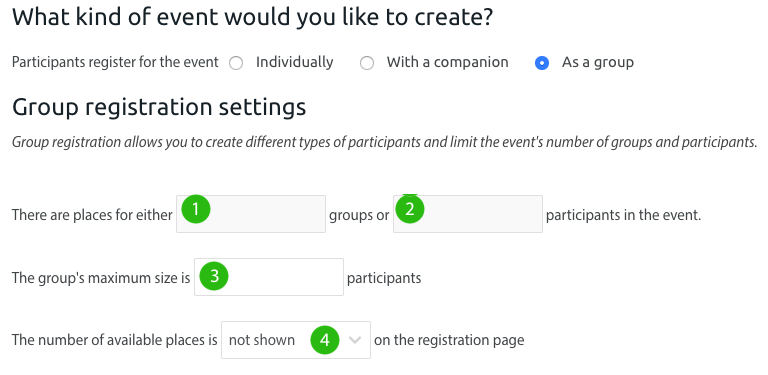 By the number of groups
Limit the number of groups eg. on a cruise where you have 100 cabins available. If the cabins sleep four, remember to define the maximum group size as four.


By the total number of participants
Limit the total number of participants, if the number or size of groups is irrelevant. This may be the case eg. in a concert where the capacity is 300 and tickets may be ordered one by one or several at a time.
By the size of a single group

Limiting the group size may be convenient in events where you organise team activities. In this case the team size is limited but the number of teams is not.

Please note that numbers 1 and 2 are mutually exclusive, which means that Lyyti automatically adds up the maximum number of participants depending on limitations to group sizes.


You can also choose to show or hide the max capacities on the registration page.



By participant type
If you don't set a maximum capacity in section 1 or 2, you can set maximum capacities for participant types, e.g. adults vs. children and normal participants vs. VIP guests. 


Participant type group minimum and/or maximum capacities 
Within a participant type it is possible to determine that in a group, you can have max two participants, like in the pictured example. If it was a four person cabin, you could set that a minimum for a group would be 4 and the maximum would be 4, and then the registration page will automatically ask for the information of 4 participants (you can set specific questions for different participant types). 
Note: It is not possible to set a minimum capacity for a group if you are using the waiting list in the event. 
How to create participant types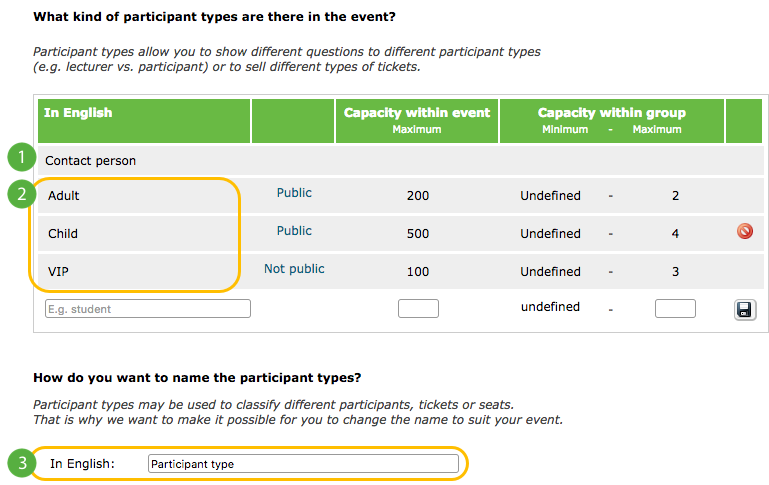 In group registration, contact person's participant type is always called Contact person, and this cannot be changed here. However, on the registration page, you can define a preferred title for it.
 Give a clear and simple name to the participant's participant types, one that describes best what people are registering to or what they are selecting. For example:

A "traditional" participant type: Adult, Child, Exhibitor, Staff...
Participation to a subevent: City tour, Workshop 1, Entrance to rooftop at 1 pm...
Ticket: Adult's ski ticket, Concert, Dinner & Show...



How do you want to name the participant types? This is a general title for all participant types, it will be shown when selecting participant types, on the registration page, confirmation message and to you as a Lyyti user (included for example in reporting and participant information).
Presentation text to participant type selection page
For the participant, group registration starts with a page where they need to select at least one participant type and the number of participants. 
Write a presentation text: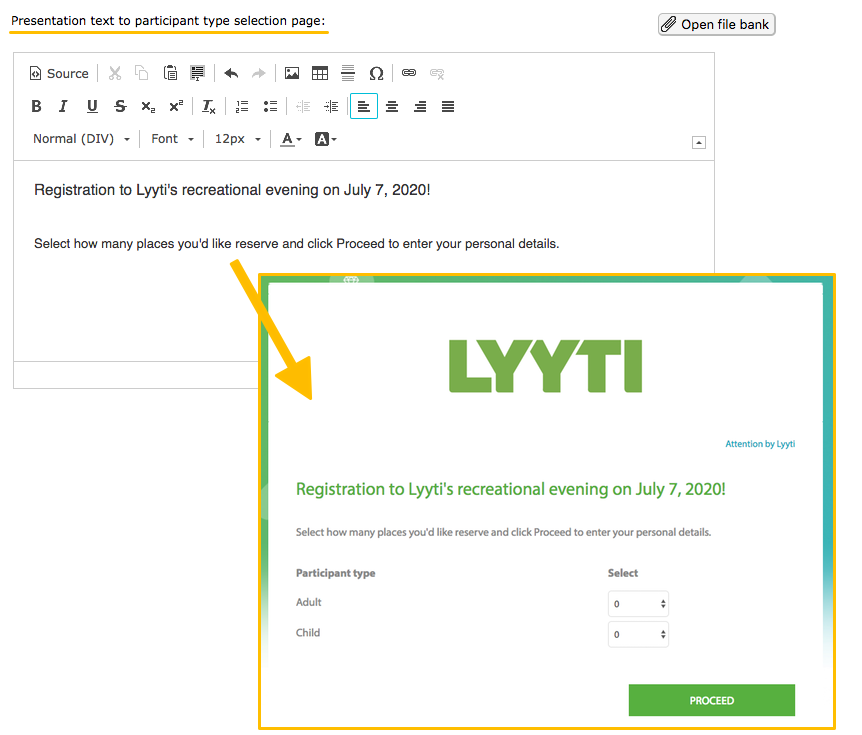 Give a clear title that tells where participants have landed, for example "Registration to the event [event name]".
If necessary, give instructions or clarifications about available participant types.
Other possible notes that the registrant needs to know. For example, if the registration/ticket is paid via Lyyti, you can advise the registrant to take out their online banking codes or credit card.
After adding the presentation text, you don't necessarily need a separate opening text on the registration page.