To create a new layout, you need at least one .jpg or .png image that has been made into a banner. The banner needs to be created outside of Lyyti and, when ready, uploaded into Lyyti. 
To add a new layout:
---
1) Create banner
Here the banner has been created using PowerPoint, after which its size has been transformed with an image editing software and added into Lyyti.
Save all necessary logos in your computer.

Open PowerPoint and open an empty slide (remove text frames etc.).
Draw a rectangle with the image tool, make it approximately the size and shape of the desired banner.
Add images/logos. You can edit images in PowerPoint after adding them.
Arrange images inside the banner as desired. If you want to move an image only slightly to a certain direction, press Ctrl (keep it pressed) and use arrow keys to move the image.


A blue rectangle with two images positioned inside


Remove border lines and blue filling from the image: Right-click on the image and select Edit (or select click on the tab Format in PowerPoint). Now you have a white rectangle with logos in the right places.
Group elements into one picture. Select all parts of the banner (rectangle & logos) with Ctrl + A. Right-click on the mouse and select Group.

Elements separately and after grouping


Right-click on the grouped image and select Save as image. Save image as .jpg or .png format.
2) Edit banner size
Open an image editing software, for example Microsoft Office Picture Manager or on Mac, Preview. You can also edit image sizes with Paint (on Windows).

Edit image size. Lock aspect to ensure image width and height to change in the same ratio. In Picture Manager, edit image width and height. If you use Mac > open Preview > Tools > Adjust Size > Fit into: Custom.

Define image size according to the banner width. The recommended width is 800 pixels.
Your banner is now ready to be uploaded into Lyyti.
3) Add layout into Lyyti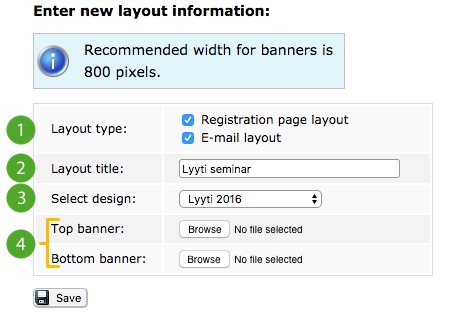 Select layout type. Select always both registration page layout and e-mail layout to make sure that you may use the same layout throughout the whole event.
Give a title to the layout. Choose a name that describes best the contents of the layout, so you'll know later on where to use this layout, for example "Christmas party; Official layout".
Select a design to be used with the layout. The design affects the registration page's fonts, buttons, colors, etc. If your organisation has a design of their own, it is recommendable to use that. If you don't have a design, use the Lyyti design. The design affects only the registration page layout, not the e-mail layout.
Upload the banner(s) from your computer. 
Save.
4) Select layout for your event
After you have created a layout or you'd simply like to change the layout in use on the registration page, go to Registration page > Registration page layout. Select the desired layout and Save and close.