You can find the following sections in this article: 
Privacy policy 
A privacy policy is a statement that informs the participant or the registering party of the way a company gathers, uses and manages participant data. Your company's admin user can upload your privacy policy into Lyyti, and it will be visible on your event registration page and in the emails you send from the event. 
Add the privacy policy into Lyyti: 

Click on Company settings (admin-users only)
Select Privacy policy
Select in which format your privacy policy is. It can be: 

None: If you haven't set or added a privacy policy, the participant can't access it from the registration page or your emails. 
Text: Write the privacy policy into Lyyti, into the text editor that opens. When you click on the privacy policy-link, it will open a page in Lyyti where the privacy policy can be read. 
URL: Paste or write the www-link to the privacy policy (it can be a link to a page or to e.g. the Lyyti file bank). 
Same as language: This selects a privacy policy that you've set for another language. E.g. if your company doesn't have a privacy policy of it's own in Swedish, you can set that in Swedish it shows Same as language English. The English version will be shown on Swedish registration pages. 
What is a privacy policy like?  You can click here to see one version of what a privacy policy can look like. You can download it and fill it out for your company's needs. 
Consent to use of participant data
When enabling the GDPR-features, two new questions will be added to the registration page, where the participant can give consent to use their data. These are for all events your company's Lyyti-users have created, and the consent is added to the participant's email address. The participant's consent will transfer to other events they register to. 
The questions will be automatically added to any new Lyyti-events you create, and if needed, you can add them from Standard questions on the registration page.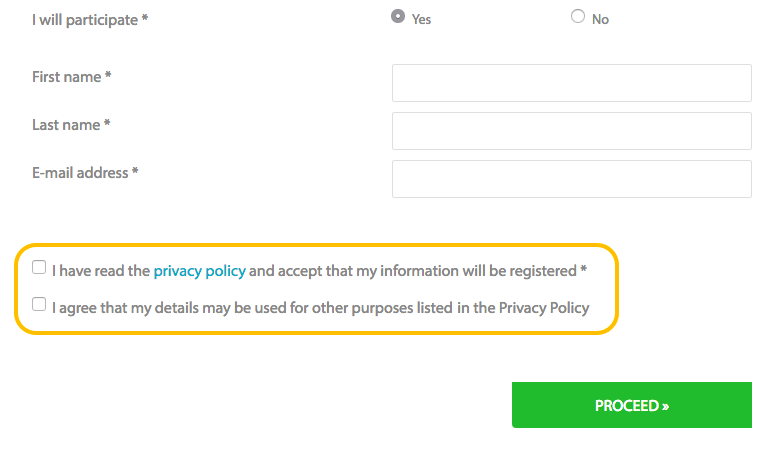 These questions will be found in Lyyti on the Registration page when editing an event, and they will automatically be at the bottom of the registration page. It's possible to make the following edits to these questions: 
The wording can't be edited
The question is always mandatory
You can hide the question by opening the question for edits (click on the pen icon when inside Lyyti) and removing the language selection tick(s). This can be done if your event isn't used for collecting personal data, but only used as e.g. a landing page or a teaser. 
By clicking on the words 'privacy policy' the participant can open or download the privacy policy you've set under Company settings. 

I agree that my details may be used for other purposes listed in the Privacy policy (*)

You can edit the wording
You can set it as mandatory or not mandatory
These questions/answers will not be included in the confirmation message. 
Exception: Consent in a group registration

In a group registration the group's contact person is the one who gives consent to their group's data, which means that the questions are only shown under the contact person's questions. 
If a group member uses their personal registration code to view the registration page, this participant will be asked to give consent to their information.  
More information on GDPR: 
Information on GDPR and data protection on Lyyti's website
GDPR: 39 questions from event organisers
The website of the Finnish Data protection ombudsman