Connecting via questionnaire 
To invite respondants of a Lyyti event to answer to your questionnaire, the questionnaire needs to be connected with the event
On the page Questionnaires, go to Settings > Settings.

Under Connect questionnaire with events, you can determine if: 


The questionnaire is usable in all the company's events. This connects the questionnaire with all the company's events without having to connect it to each event separately
Questionnaire can be answered without events. 

Note that for this to work, you need to allow respondents to answer anonymously to the questionnaire (setting found above).

Allow participant data from event to be shown on reports. 

Useful if respondents answer via their personal answer link and you have all the necessary participant data in your Lyyti event. This will make the information also available in the questionnaire's reporting.

Note! Only data in standard questions can be transferred. 

If respondents answer anonymously, participants cannot be identified and therefor data from the event cannot be transfered.

To enable data transfer, click on the pen icon and select Yes. 

To connect a new event, search the desired event in the list and click 
Finally, Save the settings.
Connecting via event
You can also connect your Lyyti event with questionnaires through the left hand menu: Actions > Connect with questionnaire.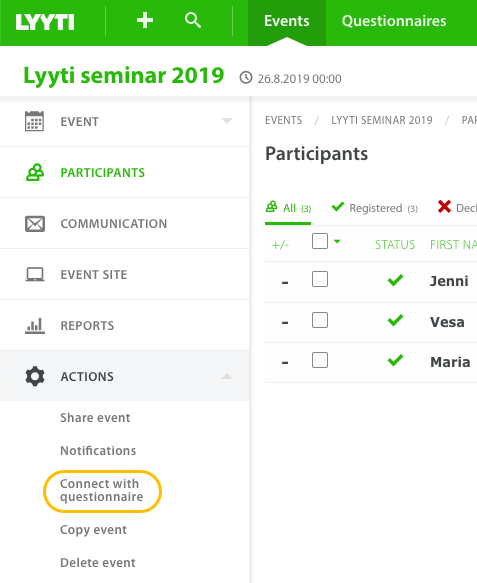 You will see which questionnaires are already connected with this event. 
Enable showing event's participant data in questionnaire reporting. 
If the questionnaire may be answered anonymously, you can also use the questionnaire's open answer link. That way you can share the questionnaire's open link through your e-mail in a newsletter or intranet, on social media, etc. However, the respondents cannot be identified unless you ask their personal details with separate questions.
Link the event to questionnaires by clicking Connect with event on the list > Save.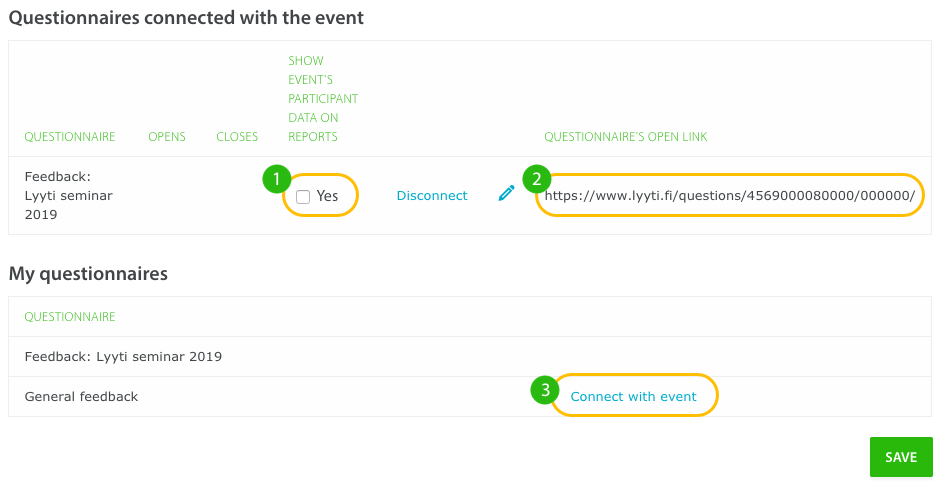 Connect a questionnaire with all company events
If your company Admin user has the Lyyti questionnaire tool, they can determine that the questionnaire is automatically connected with all the company's events. This way users don't have to connect the questionnaire with events manually.
The feature is found in Questionnaires > Settings > Settings.