To create a questionnaire, click Add questionnaire (in the menu) or Add new questionnaire on the page My questionnaires.
Give a name to the questionnaire.

When you create your first questionnaire, you start with an empty template. Later on you can use other questionnaires as templates

Choose the questionnaire's default language. You can add more languages at a later stage.Finally, click "Add new questionnaire".
Finally, click Add new questionnaire.
5. You can add other languages to the questionnaire for the respondent to choose from. Remember to translate the questions!
6. Select a template for your questionnaire. You can use all the registration page layouts found in My layouts.
7. Start creating the questionnaire by adding questions. (see instructions on question types).
Finally click Save. 
If you need to send a personal link to the questionnaire to the participants of an event, link the questionnaire to events.

You can also exit editing if you wish, but remember to save the changes!)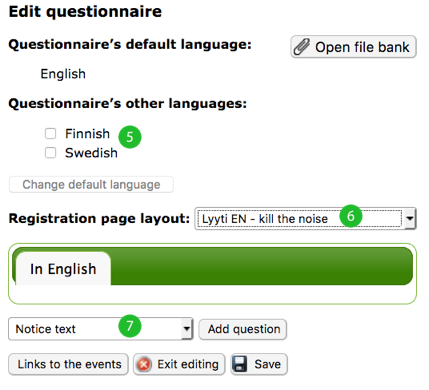 8. You can edit the name of the questionnaire when saving.
9. Save the questionnaire as a draft or publish it. Publishing creates an address link/ for the questionnaire and it may be previewed / answered.
10. Note: Can be answered anonymously -> If the questionnaire is linked to a Lyyti event and you send the questionnaire to the participants from Lyyti, their information is linked to the answers. You can also give them the possibility to answer anonymously. If you send an open link to a questionnaire, always tick this anonymity option. If you want to collect the respondents' contact information, add those questions to the questionnaire separately and as optional, non mandatory questions. 

The company's admin user can make a questionnaire available for all of the company's events. 
We also offer free online trainings for the questionnaire tool :)
The next online trainings for the questionnaire tool can be found here!